Luckyj, George Stephen Nestor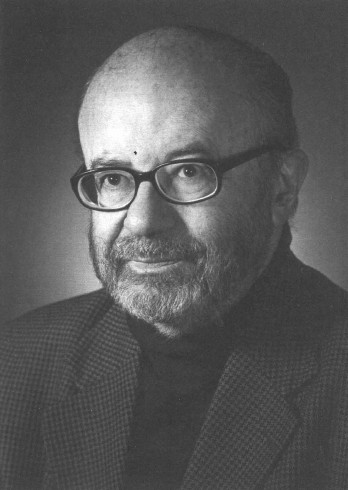 Luckyj, George Stephen Nestor [Luc'kyj; Луцький, Юрій Степан Нестoр], b 11 June 1919 in Yanchyn, Peremyshliany county, Galicia, d 22 November 2001 in Toronto, Canada. Literary scholar and translator; full member of the Shevchenko Scientific Society of Canada and the Ukrainian Academy of Arts and Sciences in the U.S.; son of Ostap Lutsky, grandson of Stepan Smal-Stotsky, and nephew of Roman Smal-Stotsky.
After graduating from the Academic Gymnasium of Lviv in 1937, Luckyj studied German literature at the University of Berlin. On his father's advice, he left Berlin on the eve of the Second World War to attend a summer school at Cambridge University and remained in England. Luckyj received a BA and MA in English literature from the University of Birmingham before enlisting in the British Army in December 1943. He served as a Russian interpreter for British military intelligence in postwar Germany. In 1947 Luckyj accepted a position to teach English literature at the University of Saskatchewan and emigrated to Canada with his wife and twin daughters. While in Saskatoon he coauthored A Modern Ukrainian Grammar (1949, with Jaroslav Rudnyckyj) and wrote the handbook English for Ukrainians (1950).
In 1949 Luckyj left Saskatoon to pursue a doctorate at Columbia University. During his doctoral studies he made the first of his many important scholarly contributions. His dissertation (1953) became the pioneering monograph Literary Politics in the Soviet Ukraine, 1917–1934 (1956; revised edn 1990; Ukrainian trans 2000). In New York Luckyj also became involved in the work of the Ukrainian Academy of Arts and Sciences in the U.S. and served as the founding editor (1951–3) and translator of the Annals of the Ukrainian Academy of Arts and Sciences in the United States. Thereafter he devoted his efforts to informing the English-speaking world about Ukrainian literature, civilization, and cultural and political issues.
During his long career as a lecturer and then professor in the University of Toronto's Department of Slavic Languages and Literatures (1952–84), Luckyj helped to turn that department into a leading centre of Slavic studies in North America while serving as departmental chairman (1957–61), and he was the first editor of Canadian Slavonic Papers (1956–61), the journal of the Canadian Association of Slavists. With the help of his wife, Moira, he became the most prolific English-language translator of Ukrainian monographs and works of Ukrainian literature in the twentieth century. His translations include The Hunters and the Hunted by Ivan Bahriany (1954, 1956); Ivan Maistrenko's Borot'bism: A Chapter in the History of Ukrainian Communism (1954); Elie Borschak's Hryhor Orlyk: France's Cossack General (1956); Dmytro Doroshenko's Survey of Ukrainian Historiography (1957); Mykola Khvylovy's Stories from the Ukraine (1960); Hryhory Kostiuk's Stalinist Rule in the Ukraine: A Decade of Mass Terror (1960); George Yurii Shevelov's Syntax of Modern Literary Ukrainian (1963); A Little Touch of Drama by Valeriian Pidmohylny (1972); Panteleimon Kulish's Black Council (1973); Mykola Kulish's Sonata Pathétique (1975); Yevhen Sverstiuk's Clandestine Essays (1976); and Pavlo Zaitsev's Taras Shevchenko: A Life (1988). In addition, he edited other translations: Four Ukrainian Poets: Drach, Korotych, Kostenko, Symonenko (poems of Ivan Drach, Vitalii Korotych, Lina Kostenko, and Vasyl Symonenko, 1969); Modern Ukrainian Short Stories (1973, revised edn 1995); Dmytro Chyzhevsky's History of Ukrainian Literature (1975); and Mykhailo Kotsiubynsky's Shadows of Forgotten Ancestors (1981).
As a literary scholar, Luckyj is best known for two seminal monographs: the aforementioned Literary Politics in the Soviet Ukraine and Between Gogol' and Ševčenko: Polarity in the Literary Ukraine, 1798–1847 (1971; Ukrainian trans 1998). He contributed many articles on Ukrainian literature, Soviet literary politics and dissent, and various Ukrainian and Russian writers to scholarly journals, encyclopedias, and reference books; and served as the editor of the section on Ukrainian literature in vol. 1 of Ukraine: A Concise Encyclopaedia (1963), of Dmytro Chyzhevsky's History of Ukrainian Literature (1975), and of Discordant Voices: The Non-Russian Soviet Literatures, 1953–1973 (1975).
Luckyj played an important role in the creation of the Canadian Institute of Ukrainian Studies (CIUS) in 1976, As its associate director (1976–82) in charge of the CIUS Toronto office, he founded the Journal of Ukrainian Graduate Studies (1976, renamed the Journal of Ukrainian Studies in 1980) and served as its faculty advisor and de facto editor in chief until November 1982; initiated the creation of Encyclopedia of Ukraine project and served as its English-language editor until November 1982; and implemented the CIUS's first plan to publish several university-level textbooks in Ukrainian language and literature. Among them were two books that he compiled and edited: Vaplitianskyi zbirnyk (The Vaplite Collection, 1977), a collection of archival documents about Vaplite, the pre-eminent Ukrainian writers' group of the 1920s; and Shevchenko and the Critics (1980), still the major collection of articles in English translation about Ukraine's national poet Taras Shevchenko.
After retiring from the university in 1984, Luckyj served as the literary editor of the monthly intellectual and literary journal Suchasnist' (1986–8) and remained prolific. From 1983 on twenty books that he wrote, translated, or compiled and edited were published. They include Panteleimon Kulish: A Sketch of His Life and Times (1983); a volume of Panteleimon Kulish's selected letters in Ukrainian (1984); Before the Storm: Soviet Ukrainian Fiction of the 1920s, translated by Yuri Tkacz (1986); Keeping a Record: Literary Purges in Soviet Ukraine (1930s): A Bio-Bibliography (1987); Whistling in the Dark: A Memoir (1987, privately circulated); the above-mentioned translation of Zaitsev's biography of Taras Shevchenko (1988); a volume containing the autobiographies of prominent nineteenth-century Ukrainians (1989); Young Ukraine: The Brotherhood of Saints Cyril and Methodius, 1845–1847 (1991); Ukrainian Literature in the Twentieth Century: A Reader's Guide (1992), revised as "An Overview of the Twentieth Century" in Dmytro Chyzhevsky's History of Ukrainian Literature, 2d edn (1997); a volume of Luckyj's correspondence in Ukrainian with Yevhen Sverstiuk (1992); a collection of Ostap Lutsky's correspondence with Olha Kobylianska and Ivan Franko and about other forgotten pages in Lutsky's life (1994); a compendium of a thousand quotations from Ukrainian literature (1996); Towards an Intellectual History of Ukraine: An Anthology of Ukrainian Thought from 1710 to 1995, co-edited with Ralph Lindheim (1996); Shevchenko's Unforgotten Journey (1996); a biography of Nikolai Gogol (Mykola Hohol): The Anguish of Mykola Hohol, a.k.a. Nikolai Gogol (1997); Arkadii Liubchenko's diary (1999); two volumes of Luckyj's memoirs (Kyiv 1999, 2000) in Ukrainian; and, posthumously, a collection of his essays, Z dvokh svitiv (From Two Worlds, 2002), and his diary of the years 1986–99 (2004) in Ukrainian.
During the last decade of his life, Luckyj also contributed occasional commentaries on Ukrainian social and cultural issues to the Kyiv daily Den'. On the occasion of his seventieth birthday, In Working Order: Essays Presented to G. S. N. Luckyj was published as the 1989 volume of the Journal of Ukrainian Studies. In 1999 he was awarded the Antonovych Prize in recognition of his contribution to the dissemination of knowledge in the West about Ukrainian literature.
Since 2009 the Canadian Foundation for Ukrainian Studies has awarded the triennial George S. N. Luckyj Ukrainian Literature Translation Prize to persons who have significantly contributed to the translation of Ukrainian literary works into English. Using Luckyj's valuable personal and family archive, which he donated to the University of Toronto Archives, Olha Luchuk compiled and annotated a collection of his correspondence with the Harvard scholar Omeljan Pritsak (2014).
Roman Senkus
[This article was updated in 2015.]