National Opera of Ukraine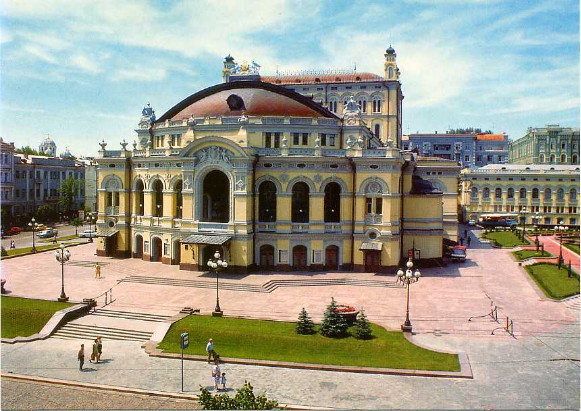 National Opera of Ukraine (Національна Опера України ім. Т. Г. Шевченка; Nationalna Opera Ukrainy im. T.H. Shevchenka). The leading musical theater of Ukraine. Founded in Kyiv originally in 1856 as the Kyiv City Theater, which in 1867 acquired a resident company and became known as the Kyiv Russian Opera, it was nationalized in 1919 under the name of the Opera of the Ukrainian Soviet Republic, and in 1926 was Ukrainized and renamed the Kyiv Ukrainian Opera. In 1934 it acquired the name Kyiv Theater of Opera and Ballet.
The theater has mounted many highly successful productions of classical and new Ukrainian operas. Its opera repertoire includes Mykola Lysenko's Natalka from Poltava, Christmas Night, Taras Bulba, and Aeneid; Semen Hulak-Artemovsky's Zaporozhian Cossack beyond the Danube; Mykola Arkas's Kateryna; Borys Yanovsky's Black Sea Duma; Valentyn Kostenko's Karmeliuk; Borys Liatoshynsky's Shchors and The Golden Ring; Mykhailo Verykivsky's Naimychka (The Servant Girl); Yulii Meitus's The Young Guard; Kostiantyn Dankevych's Bohdan Khmelnytsky; and Heorhii Maiboroda's Mylana. The ballet repertoire includes Mykhailo Skorulsky's The Forest Song, Kostiantyn Dankevych's Lily, Mykhailo Verykivsky's The Nobleman Kanovsky, Herman Zhukovsky's Rostyslava, and Anatolii Sviechnykov's Marusia Bohuslavka. Among the conductors who worked at the theater in the Soviet period were A. Margulian, Volodymyr Yorysh, Volodymyr Piradov, V. Dranishnikov, Antin Rudnytsky, A. Pazovsky, Borys Chystiakov, and Oleksander Klymov. The choreographers were Vasyl Lytvynenko, Vasyl Verkhovynets, L. Zhukov, Pavlo Virsky, and Vakhtanh Vronsky. The stage directors included such names as Volodymyr Manzii, M. Smolych, Mykhailo Stefanovych, and Volodymyr Skliarenko; the stage designers, Semen Evenbakh, Oleksander Khvostenko-Khvostov, Ivan Kurochka-Armashevsky, Anatol Petrytsky, and Fedir Nirod. Many outstanding singers have appeared at the Kyiv theater: eg, Mariia Lytvynenko-Volhemut, Oksana Petrusenko, Zoia Haidai, N. Zakharchenko, Yelysaveta Chavdar, M. Skybytska, Oleksandra Ropska, Larysa Rudenko, Yurii Kyporenko-Domansky, V. Didkovsky, O. Kolodub, Vasyl Kozeratsky, Petro Bilynnyk, M. Zubarev, Mykhailo Hryshko, Andrii Ivanov, Mykhailo Donets, Ivan Patorzhynsky, Mykhailo Romensky, Mykola Chastii, and Borys Hmyria. Russian and Western European guest soloists also appear on its stage.
In the early 1980s the company included such opera singers as Yevheniia Miroshnychenko, Yevdokhiia Kolesnyk, Zoia Khrystych, Gizelia Tsypola, Klavdia Radchenko, Mariia Stefiuk, Halyna Tuftina, Anatolii Solovianenko, Vasyl Tretiak, Volodymyr Tymokhin, Dmytro Hnatiuk, Anatolii Mokrenko, and A. Kocherha, and such ballet soloists as Valerii Kovtun, Valentyna Kalynovska, Olena Potapova, Alla Havrylenko, Liudmyla Smorhachova, and Alla Lahoda. Its conductors were Oleh Riabov, Ivan Hamkalo, A. Vlasenko, and R. Dorozhyvsky, and its choreographers were R. Kliavin and A. Shykero. The head conductor was Stepan Turchak, the head stage director was Dmytro Smolych, and the chief stage designer Fedir Nirod.
In independent Ukraine, the theater was granted a national theater status in 1992. Since 1992 Petro Chupryna has been its director. Volodymyr Kozhukhar was the company's head conductor between 1989 and 2011. Since 2011 Myroslav Skoryk has been the company's artistic director. In recent years, the National Opera of Ukraine has included such singers as Anatolii Kocherha, Liudmyla Monastyrska, Viktoriia Lukianets, and Volodymyr Hryshko.
BIBLIOGRAPHY
Stefanovych, M. Kyïvs'kyi derzhavnyi ordena Lenina akademichnyi teatr opery ta baletu URSR im. T.H. Shevchenka: Istorychnyi narys (Kyiv 1968)
Stanishevs'kyi, Iu. Ukraïns'kyi radians'kyi muzychnyi teatr (1917–1947): Narysy istoriï (Kyiv 1970)
Valeriian Revutsky
[This article was updated in 2017.]