New Era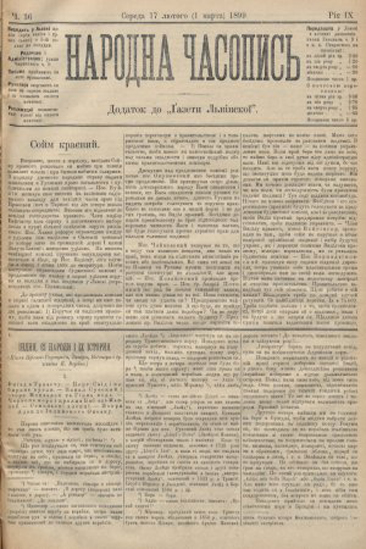 New Era (Нова ера; Nova era). An attempt to establish a rapprochement between Galician Ukrainians and Poles in Austria-Hungary in 1890–4. Spurred by growing tensions between the Austro-Hungarian Empire and the Russian Empire, the Austrian minister of foreign affairs, Count G. Kálnoky, pressured his government to try to satisfy the Ukrainians' demands and secure their loyalty (the likely battleground for the seemingly imminent hostilities being Galicia). Since the government had come to an agreement concerning Galicia that gave the Poles effective administrative control over the crown land, Kálnoky was forced to hand the matter over to the governor of Galicia, Kazimierz Badeni. The marshal of the Galician Diet, E. Sanguszko, and A. Chamiec assisted Badeni. The Ukrainian leaders associated with the effort included Metropolitan Sylvester Sembratovych and several moderate populists, such as Oleksander Barvinsky, Yuliian Romanchuk, and Kostiantyn Telishevsky. Representatives of the Hromada of Kyiv, led by Volodymyr Antonovych, also took part in the ensuing negotiations. But the New Era had little chance of success. The Ukrainians hoped to ensure a better climate for Ukrainian social and cultural development in Galicia; Badeni was willing to try to appease Ukrainians only with limited concessions in education and language rights.
The Ruthenian-Ukrainian Radical party immediately came out against the policies of the New Era, but spokesmen of populist groups offered their support at the parliamentary sessions in November 1890. On behalf of the government Kazimierz Badeni promised that Ukrainians would be allowed free national development based on the principles of the Austrian constitution.
The positive consequences of the New Era for Ukrainians included the wider use of the Ukrainian language in administrative affairs and in the courts; the introduction of a phonetic orthography in Ukrainian textbooks; bilingualism in teachers' seminaries; the establishment of a state gymnasium in Kolomyia; the creation of chairs of Eastern European (essentially Ukrainian) history and Ukrainian literature at Lviv University; the setting up of Ukrainian financial institutions, such as Dnister (bank) in Lviv and the Ukrainian Savings Bank in Peremyshl; and the publication of a Ukrainian-language government daily, Narodna chasopys'. The broader political changes Ukrainians believed would be forthcoming, however, never materialized, and Ukrainian support for the New Era dwindled. In 1894, led by Yuliian Romanchuk, the populists rejected the New Era and joined the ranks of its opponents. Sylvester Sembratovych and a small number of populists, led by Oleksander Barvinsky and Anatol Vakhnianyn, continued to support the policy and centered their activities on the daily Ruslan (est 1897).
The failure of the New Era sharpened the tone of Galician politics. The 1895 provincial election to the Galician Diet and the 1897 election to the national parliament were fraught with administrative abuses unusual even for Galicia. Far from cowing them, those assaults on their political work strengthened the resolve of Ukrainians to develop their political strengths and provided an impetus for a major restructuring of Ukrainian political parties in the late 1890s (notably with the establishment of the National Democratic party).
[This article originally appeared in the Encyclopedia of Ukraine, vol. 3 (1993).]