Saint Onuphrius's Church and Monastery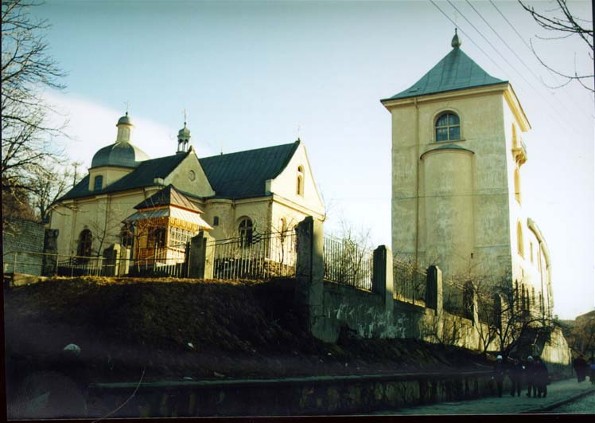 Saint Onuphrius's Church and Monastery (Церква і манастир св. Онуфрія; Tserkva i manastyr sv. Onufriia). A church and monastery located in Lviv. First mentioned in documents from 1292, the complex has been built and rebuilt several times—in 1453 (funded by S. Dropan), 1518 (funded by Kostiantyn Ostrozky), 1655, and 1902. In 1693–8 the monastery was surrounded by defensive walls, parts of which can still be seen.
The monastery was controlled by the Lviv Dormition Brotherhood until 1767. During this period it housed a hospital (1591–1765) and, for a time, the printing press of Ivan (Fedorov) Fedorovych. In the 1630s the engraver Master Illia began his work there. In 1709 the monastery (and brotherhood) accepted the Church Union of Berestia and was subordinated directly to the Vatican. In 1767 it joined the Basilian monastic order. Expanded considerably in 1815–20, the monastery came to house a library containing, by 1939, many valuable manuscripts and over 40,000 books, the Basilian archives, and a gallery featuring icons and portraits of church and historical figures. It also served as the Basilian order's headquarters and publishing center in Galicia. Notable figures buried in the monastery's cemetery (closed after 1820) and in the church's crypts include Fedorovych and his son, Ivan; important Lviv burghers; and Basilian protohegumens such as M. Hrynevetsky and Arsen Radkevych.
The complex includes Saint Onuphrius's Church, a three-nave and three-apse structure built in 1680; monks' cells built in 1683; and a bell tower. The monastery was closed by the Soviet authorities following the Second World War, and the monks were exiled or killed. In 1990 the monastery was returned to the Basilian order.
[This article originally appeared in the Encyclopedia of Ukraine, vol. 4 (1993).]