Synevyr National Nature Park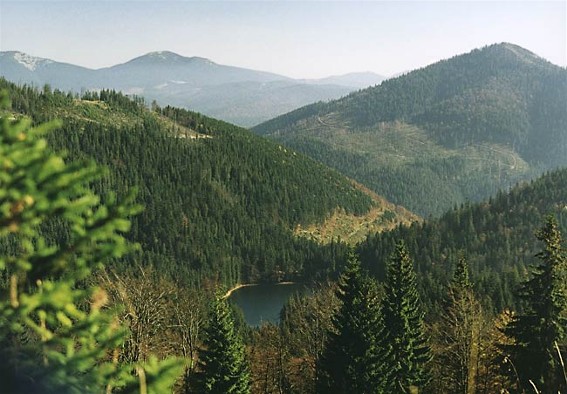 Synevyr National Nature Park (Національний природній парк «Синевир»; Natsionalnyi pryrodnii park "Synevyr"). The third national park to be created in Ukraine, after the Carpathian National Nature Park and the Shatsk National Nature Park. Established in 1989, the park covers 40,400 ha in the Gorgany Mountains, the central part of Ukraine's Carpathian Mountains (see also Carpathian protected areas), in the upper reaches of the Tereblia River and the Rika River in Mizhhiria raion, Transcarpathia oblast. The highest peak in the park is Mt. Nehrovets (1,712 m), and the park's most unique feature is Synevyr Lake, the largest lake in Ukraine's Carpathians, which has recently been added to the list of Ramsar wetlands of international importance. It is a widely popular site associated with many local legends and one of the best-recognized symbols of the Carpathian Mountains.
The vegetation covering the park's mountain slopes is characterized by well-defined vertical zonation. Beech forests extend from 450 to 700 m; above them are beech-fir and fir-spruce forests (700–1,100 m) and then spruce forests (1,100–1,500 m); and the highest elevations are clad in krummholz formations featuring dwarf mountain pine, alder, and juniper. The park's 26-ha Hlukhania sphagnum bog provides a habitat for numerous rare and protected plants. The park's flora includes over 1,050 species of vascular plants, 38 of which have been entered into Ukraine's Red Book of endangered species, and one in Europe's Red List. The park is inhabited by brown bears, wolves, lynx, foxes, deer, roe deer, squirrels, martens, badgers, ermines, wood grouse, and black grouse, and offers protection for endangered animal species, notably the horned owl and two kinds of tritons. Twenty-one of the park's fauna species are included in Ukraine's Red Book, and eleven are in Europe's Red Book. The park's reserve zone has an area of 7,000 ha; the protected zone, another 20,100 ha; the recreational zone, 5,000 ha; and the agro-economic buffer zone, the remaining 8,300 ha. The park also has sources of mineral water and valued historical and cultural structures, particularly wooden churches and eastern Europe's only wood-rafting museum, built on the Ozerianka River.
[This article was written in 2008.]