Union of Ruthenian-Ukrainians of the Slovak Republic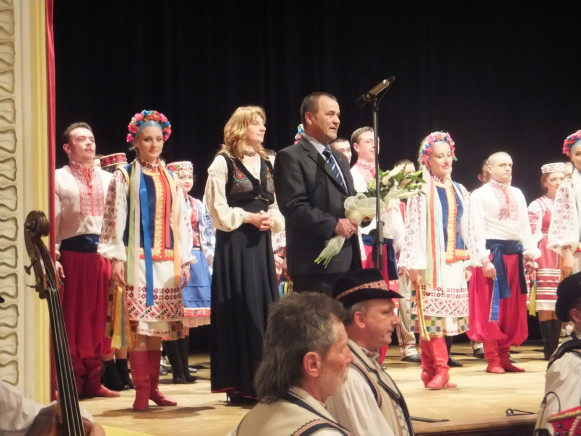 Union of Ruthenian-Ukrainians of the Slovak Republic [Союз русинів-українців Словацької Республіки or СРУСР; Soiuz rusyniv-ukraintsiv Slovatskoi Respubliky or SRUSR]. Civic cultural and educational organization of the Ukrainian minority in Slovakia. It was originally founded in Czechoslovakia in 1951 as the Union of Ukrainian Workers to replace the Ukrainian People's Council of the Prešov Region. In 1954 it was renamed the Cultural Association of Ukrainian Workers (KSUT). In 1990 at the KSUT convention in Prešov the organization was restructured as the Union of Ruthenian-Ukrainians of Czechoslovakia. It assumed its current name in 1993 following the dissolution of Czechoslovakia and the establishment of an independent Slovak Republic.
The association, whose head office has been in Prešov, operated only in eastern Slovakia and did not serve the Ukrainians scattered throughout the Czech lands of Bohemia and Moravia. Until the Velvet Revolution of 1989, KSUT was controlled by the Communist party and was a member of the National Front. Its network included five district organizations, one city (Košice) organization, and over 260 local branches at schools, enterprises, or villages. Its membership was about 20,000 in 1976. KSUT conducted artistic and educational activities on a mass scale and sponsored about 190 amateur cultural circles. It held public lectures, annual folk song and dance festivals in Svydnyk (see Ukrainian Cultural Festival in Slovakia), choir festivals in Kamienka, and drama and recitation festivals in Medzilaborce. The Prešov Ukrainian National Theater, the Duklia Ukrainian Folk Ensemble (song and dance), and the Ukrainian section of the Slovak Writers' Union closely co-operated with the association. KSUT published the weekly newspaper Nove zhyttia, the monthly magazine Druzhno vpered, the bimonthly journal Duklia, and Naukovi zapysky (Scholarly Papers, 9 volumes by 1982). Two political purges (1954, 1968–9) to root out 'bourgeois nationalists' greatly affected the association. The following individuals served as presidents of KSUT: P. Babei, Vasyl Kapishovsky, V. Kopchak, Ivan Prokipchak, and Fedir Kovach.
After 1990 the Union of Ruthenian-Ukrainians has continued to publish the literary journal Duklia and assumed publication of the illustrated journal for children Veselka (Slovakia). The majority of SRUSR membership belong to city and village branches in the Prešov region. Apart from its Central Council, SRUSR has six regional branches in Bardejov, Prešov, Košice, Humenné, Svydnyk, and Stará L'ubovňa. The following individuals served as heads of the SRUSR Central Council: M. Hyriak, V. Koval, P. Bogdan, I. Laba, and P. Sokol.
[This article was written in 2014.]