Burliuk, Davyd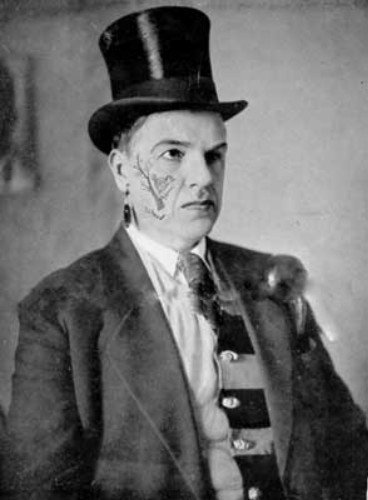 Burliuk, Davyd (David) [Бурлюк, Давид; Burljuk, Davyd], b 22 July 1882 in Semyrotivka near village of Riabushky, Lebedyn county, Kharkiv gubernia, d 15 January 1967 in Southampton, Long Island, New York State. Painter and poet, founder of futurism in the Russian Empire. He studied at the Odesa and Kazan Art Schools, Munich Royal Academy of Arts (1902–3) under W. Ditz and A. Azhbe, and at the École des Beaux-Arts in Paris under F. Cormon (1904). After obtaining a diploma from the Odesa Art School (1911), Davyd entered the Moscow School of Arts but was expelled in 1914 along with Vladimir Maiakovsky for 'participation in public disputes.'
He began painting in 1904. Between 1907 and 1913 he lived in Chornianka near Kherson where his father supervised an estate which was visited by many noted artists and writers, such as W. Kandinsky, V. Maiakovsky, V. Kamensky, V. Izdebsky, A. Lentulov, M. Larionov, B. Livshitz, A. Kruchenykh, and V. Khlebnikov. It was here that an avant-garde group coalesced, first calling themselves Hylaea (after the Greek name for Scythian lands at the mouth of the Dnipro River) and then budetliany or futurists. Burliuk was involved in planning and organizing all of their early exhibitions. Together with Alexandra Ekster and Oleksander Bohomazov, he organized the Link exhibition in Kyiv in 1908, producing his first declaration, 'The Voice of an Impressionist: In Defence of Painting.' He participated in avant-garde exhibitions in Saint Petersburg and in the first 'Jack of Diamonds' exhibition in Moscow (1910), in the Second Izdebsky Salon (1910–11) in Odesa and Mykolaiv that announced the arrival of avant-garde art within the Russian Empire. He also organized and participated in the publication of the Hylaeans' first miscellanies, A Trap for Judges (1910) and A Trap for Judges II (1913), which contained his foreword-manifesto.
He exhibited at the Paul Cassirer gallery in Berlin (1911), in Moscow's second 'Jack of Diamonds' exhibition and in the important Der Blaue Reiter exhibition in Munich alongside Paul Klee, Alexej von Jawlensky, Natalia Goncharova, Pablo Picasso, Robert Delauney and others (1912), contributing an article, 'Die "Wilden" Russlands,' to Der Blaue Reiter almanac. In the same year he published the programmatic miscellany A Slap in the Face of Public Taste in which his article on cubism appeared. Between December 1913 and April 1914 together with Vladimir Maiakovsky and Vasily Kamensky he made a famous futurist tour of 17 cities, making "poetry concerts" into a kind of performance art. He was active in Moscow's Jack of Diamonds group, staging numerous publicity events and participating in exhibitions in 1912, 1916 and 1918.
During the Revolution of 1917 and civil war he traveled through Siberia (1918–20), lived in Vladivostok (1919–20) and Japan (1920–22), then moved to the United States, where he lived in New York (1922–41) and Hampton Bays (1941–67). In the United States he participated in exhibitions at the Pennsylvania Academy of Fine Arts (1922), at the Brooklyn Museum in New York (1923), and held a solo exhibition at the New York Art Centre (1923). Vladimir Maiakovsky visited him in 1925. Other visitors included Abram Manevich, Marcel Duchamp, Sergei Prokofiev, and Sergei Eisenstein. In New York he exhibited reglarly at the ACA Gallery. His last major exhibition was in Long Beach, New York State, in 1962. In the years 1923–40 he worked for the pro-Communist newspaper Russkii golos (Russian Voice) as an art editor and proofreader. From 1937–66 he published an art journal, Color and Rhyme, which contained his own poetry written in Russian, various memoirs, articles and reviews.
As a painter he experimented with a number of styles, but his cult of energy and vitality, and his connection to nature remained constant. Burliuk, who was descended from a family of Zaporozhian Cossacks, began by mythologizing his steppe homeland as the source of a 'primitivism' which he admired and which drew him to the forceful, 'wild,' and direct in art. He took inspiration from Scythian artifacts collected during archeological digs, ancient sculptures called stone baby, and Cossack history.
His early artistic revolt was expressed in paintings like Wedding (also called Marriage Proposal, Courtship, Rustic Infatuation) (1910, repainted in 1962), Stonemason (1910), his version of the Kozak-Mamai motif The Kozak-Mamai (1908), Neomorphism (1913). These pre-First World War works are often painted in a simplified cubist manner, or recall the Italian futurists' attempts to represent motion by separating movement into individual frames. However, Burliuk's futurism, unlike the Italian, refused to ennoble the city, technology, or machinery, focusing instead on the natural environment.
While traveling through Siberia during the civil war years he gave lectures and 'poetry concerts,' and painted portraits to make money. In Japan he painted over 400 canvases in an impressionist manner. He contributed 150 canvases to the First Exhibition of Russian Paintings in Japan (in Tokyo, Osaka, and Kyoto), participated in the Japanese Futurist Art Association (Tokyo, Osaka, and Nagoya), and mounted 8 solo or two-person shows (with Victor Palmov). At least one canvas was purchased by the Japanese imperial family.
In the United States Burliuk experimented with new styles. The radio style showed radio waves and energy forces, and his surrealist style depicted objects that held an allegorical meaning. His Kiss to the Mountain (1920s), for example, suggests the presence of mysterious forces guiding human conduct: various objects suggest unlocking or prizing open the secrets of nature, while his Lenin and Tolstoy (1925–30, second version in 1943) represents Russia.
Fascinated by the hidden potential within nature, Burliuk believed in the existence of invisible realms just outside the normal sphere of perception. The intuition of things invisible to the naked eye can be sensed in Burliuk's impressionistic landscapes, whether of the Ukrainian steppe, Japan or in later manifestations: A House in the Steppe (1908), Landscape with a River (early 1910s). They pulsate with energy, and seem to reveal the hum and interaction of millions of living fragments and particles.
In the 1930s and 1940s he developed his own kind of socialist realism, depicting thick-set, gnome-like figures, that appear rooted in the earth, and painting scenes of Gloucester, Rockport and other New England towns. These works find a strong inspiration in the vitality of ordinary people and their daily life. They show scenes of tea parties, picnics, villages, town streets, and taverns: Buy my Fish, Smiling Dish (1951), Café de Nuit (1949), Your Fortune Told (c1950), Barber (1945). He also painted many scenes of Ukrainian village life, recreating childhood impressions in a 'naïve style.' These paintings are full of bright colours and suggest a sense of recaptured joy and tranquility: The Green Cow, Two Ukrainian Girls, White Clouds, The Orange Cow, Two Girls and a Horse (1930–50).
From the late 1940s, accompanied by his wife Marusia, he traveled extensively: to Mexico, throughout Europe, and around the world. In 1956 he visited the Soviet Union, spending time in Leningrad, Moscow, Kharkiv, and the Crimea. In the last two decades of his life he painted many still lifes, perhaps as a final tribute to natural beauty and the powers of the earth, as well as numerous miniature portraits and scenes on small wooden blocks.
A revival of interest in the painter in Russia has led to retrospective exhibitions in Ufa (1994), Saint Petersburg (1995), Perm, and Tambov (2005).
BIBLIOGRAPHY
Gollerbakh, E. Iskusstvo Davida Burliuka (New York 1930)
———. Poeziia Davida Burliuka (New York 1931)
Postupalskii, Igor. Literaturnyi trud Davida D. Burliuka (New York 1931)
Kuznetsova-Burliuk, Liudmila. 'Fragmenty khronologii roda Burliukov,' Color and Rhyme 48 (1961–62)
Livshits, Benedikt. The One and a Half-Eyed Archer (Newtonville 1977)
Bowlt, John E. 'David Burliuk, the Father of Russian Futurism,' Canadian-American Slavic Studies 20.1–2 (1986)
David Burliuk, 1882-1967: Exhibition of Works from the State Russian Museum and Museums and Private Collections of Russia, USA and Germany (Saint Petersburg 1995)
Evdaev, Norbert. David Burliuk v Amerike: Materialy k biografii (Moscow 2002)
Russian Futurism and David Burliuk, 'The Father of Russian Futurism' (Saint Petersburg 2000)
Myroslav Shkandrij
[This article was written in 2005.]