Neborak, Viktor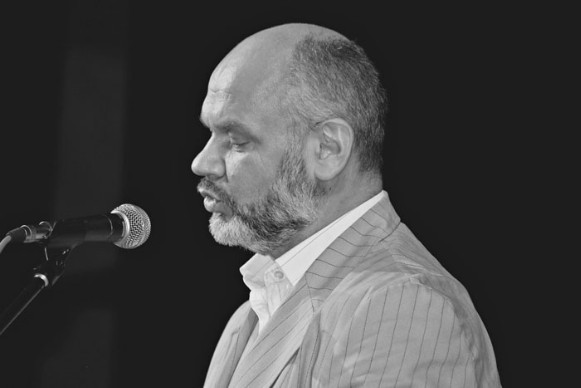 Neborak, Viktor [Неборак, Віктор], b 9 May 1961 in Ivano-Frankove, Yavoriv raion, Lviv oblast. Poet, writer, essayist, translator, literary scholar, and literary critic. In 1983, he completed his studies in Ukrainian philology at Lviv University and, in 1989, he completed his PhD in literature at the Academy of Sciences of the Ukrainian SSR. In 1991, he began working at the Institute of Literature of the National Academy of Sciences of Ukraine and, since 2009, he has worked at its Ivan Franko Institute of the National Academy of Sciences of Ukraine as a senior researcher.
Neborak is a key representative of the visimdesiatnyky generation of writers, which emerged on Ukraine's cultural scene in the era of glasnost and in early post-Soviet Ukraine. Neborak's central role in this cultural revival was enhanced by his cofounding of, and membership in, the Bu-Ba-Bu (burlesk–balahan–bufonada; burlesque–farce–buffoonery) group of poets. Together with Yuri Andrukhovych and Oleksandr Irvanets, Neborak, through Bu-Ba-Bu, was successful in revitalizing Ukrainian literature by actively infusing it with elements of carnival and polyphony, as well as with popular, urban, youth themes and language. The trio was remarkably successful in organizing, and presenting at the center of, mass cultural gatherings that celebrated newness as well as the freedom and diversity in cultural expression that arrived with the demise of the Union of Soviet Socialist Republics along with its restrictive and centralized official cultural policy of socialist realism. Bu-Ba-Bu simultaneously rejected the narrowing of Ukrainian cultural thematic and stylistic scope that was propagated by certain segments of the national-patriotic post-Soviet Ukrainian cultural scene. Instead, the trio strove to enrich the national culture by exploring new topics with it, by connecting it with Western cultural movements, by reviving and reinterpreting past Ukrainian cultural achievements, and by experimenting with new forms in today's art. As part of Bu-Ba-Bu's mockery and deconstruction of Soviet officialdom, Neborak's parodic title in the group was Prokuror (Prosecutor). In addition to his talents as a writer and performer in Bu-Ba-Bu, Neborak was successful in conceiving and organizing many of the group's most grand public performances. Neborak's organizational talents were further demonstrated when he initiated and conducted a long-running series of literary events at Lviv's Museum of Ethnography and Crafts entitled Tretie Tysiacholittia (The Third Millennium) in the 1990s, which featured readings by, and interviews with, many leading contemporary Ukrainian writers.
Neborak has published several volumes of poetry. His first collection Burshtynovyi chas (Amber Time) was published in 1987. But it is in his second poetry collection Litaiucha holova (The Flying Head, 1990) that Neborak presented his most original and influential poetic voice. This meticulously structured collection expresses, in verse, many of the concepts promulgated by Bu-Ba-Bu, including carnival, eroticism, rock music, experimentation in form, and general revelry, all the while remaining thematically cohesive. Boldly designed in harmony with the volume's carnivalesque spirit by artist Yurko Kokh, the publication is an embodiment of the interweaving of various artistic forms that characterized and energized much of 1990s Ukrainian culture in Lviv. In this period, Lviv artists (Kokh, Vlodko Kaufman, Volodymyr Kostyrko) would often design writers' book publications and event posters, musicians would compose songs based on poems from the poets' collections, and those same artists would often design covers for those musician's albums. For example, many poems from the collections Litaiucha holova were also rendered into popular songs by musicians and rock bands such as Viktor Morozov, Plach Ieremii (Jeremiah's Lament), Mertvyi Piven (Dead Rooster), and Neborak Rock Band. This dynamic marked the existence and activity of a creative bohemian circle in Ukraine that emerged to become a focal point of the late-Soviet and early post-Soviet Ukrainian culture. The apex of these artists' collaboration, with Neborak and Bu-Ba-Bu prominently at its center, was the poetic opera Chrysler Imperial at the second VyVykh festival in 1992.
Since Litaiucha holova, Neborak has consistently published collections of poetry, most of which differ considerably from the groundbreaking stylistics of that collection. Alter Ego (1993) was written in parallel with Litaiucha holova but presents a somber, reflective collection of poems written in free verse. Rozmova zi sluhoiu (A Conversation with the Servant, 1993) continues somewhat the carnival and performance tropes of Litaiucha holova. Epos pro trytsiat piatu khatu (The Epos of House no. 35, 1999), however, moves in a new direction for the poet, presenting a focus on family and Christian tradition. Litostroton (2001) collects all of Neborak's previously published poetry books (excluding Burshtynovyi chas) while adding several new poems, many of which would appear in forthcoming publications. Povtorennia istorii (A Repetition of Stories, 2005) and Virshi z vulytsi Vyhovskoho (Poems from Vyhovsky Street, 2009) continue many of the themes present in Epos, including a further distancing of Neborak from Lviv's bohemian life while simultaneous offering poems dedicated to various individuals from that artistic and social scene. These reflective latter poetry collections appear in parallel with many essays and memoirs written by Neborak that capture the years surrounding the heyday of Bu-Ba-B and were published in Povernennia v Leopolis (A Return to Leopolis, 1998), and Vvedenia v Bu-Ba-Bu (Immersion into Bu-Ba-Bu, 2001; republished in an expanded version in 2003). Kolyshnii, inshyi…(Different, back then…, 2013) goes further back into the writer's biography and is made up mostly of diary entries from the time he lived and worked in the Donbas in 1984. Two other publications of Neborak's non-fiction A.H. ta inshi rechi (A.H. and Other Things, 2007) and Leksykon A.H. (The A.H. Lexicon, 2015) present his essays, literary criticism, memoirs, and interviews presented through the mysterious fictional persona "A.H." Neborak has also published Bazylevs (2006), a book of fiction which continues the writer's perpetual endeavor of fashioning a myth around the city of Lviv in various literary genres.
Neborak has published two monographs—Perechytana "Eneïda" (Eneïda Reread, 2001), which is an analysis of Ivan Kotliarevsky's Eneïda, and Ivan Franko: Vershyny i nyzyny (Ivan Franko: Highs and Lows, 2016). His literary criticism has been focused on Ivan Franko, Pavlo Tychyna, Yevhen Malaniuk, Bohdan Ihor Antonych, Vasyl Stefanyk, Vasyl Herasymiuk, Ihor Rymaruk, and Andrii Sodomora, among others. A collection of his literary criticism was published as Povilne chytannia (Slow Reading) in 2010.
Neborak belonged to the literary group Psy Sviatoho Yura (The Dogs of Saint George) and is a member of the Association of Ukrainian Writers and the National Writers' Union of Ukraine. His works have been translated into many languages, including English, German, Bulgarian, Armenian, Polish, Latvian, French, and Finnish. The Flying Head and Other Poems, a volume featuring English-language translations of Neborak's seminal 1990 collection in its entirety, as well as additional poems from various periods of his writing, was published in 2005.
Mark Andryczyk
[This article was written in 2020.]