Sylvestrov, Valentyn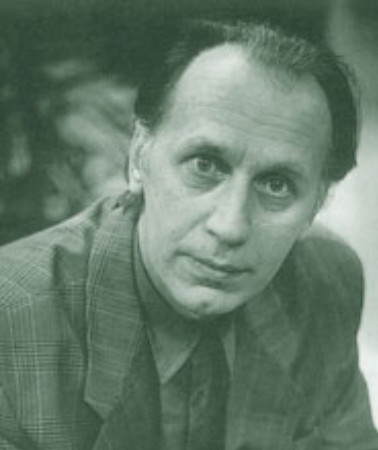 Sylvestrov, Valentyn [Сильвестров, Валентин; Syl'vestrov] (Silvestrov), b 30 September 1937 in Kyiv. Composer. He studied composition under Borys Liatoshynsky and counterpoint under Lev Revutsky at the Kyiv Conservatory (1958–64). Working in a modernist idiom, he quickly established a reputation as one of several innovative musicians of the 'Kyiv Avant-Garde.' In many of his works he adopted dodecaphonist and avant-garde techniques, at the same time retaining a characteristically lyrical expression. He used a ramified tonal system, including polytonal counterpoint, also introducing 12-tone serialism. Starting in the 1970s he employed polystylistic methods in which tonality, atonality, modality, texture, and audiovisual elements all enter into dialogue with each other, forming broadly based dramatic compositions.
Sylvestrov's music was harshly criticized in the Soviet press in the 1960s and 1970s and he was temporarily excluded from the Union of Composers of Ukraine. His works were hardly ever performed in Ukraine, but several successful performances in the Russian SFSR (such as the premiere of his Spectrums for chamber orchestra (1965) and his Symphony No. 2 [1968] by the Leningrad Philharmonic under Ihor Blazhkov) attracted attention of the music critics. Sylvestrov soon started developing an international reputation, winning the prestigious International Koussevitsky Prize (USA, 1967) and the International Young Composers' Competition Gaudeamus (Holland, 1970). Some of his compositions had their world premieres at European festivals of modern music or at performances by the Las Vegas Symphony, Virko Baley conducting.
In the 1970s, with his String Quartet No. 1 and the cycle of art songs entitled Tykhi pisni (Quiet Songs), Sylvestrov moved away from the conventional techniques of the Western avant-garde and developed a slow-moving, tonally-rooted musical language imbued with a deep sense of mysticism. He later developed a style, somewhat akin to Western post-modernism, which he termed 'metamusic' (short for 'metaphorical music'). In the 2000s, by then a world-renowned composer, Sylvestrov moved even further away from the Western avant-garde by composing cycles of tonally-based, melodic bagatellen for piano as well as liturgical music for choir a capella, closely linked to the tradition of Ukrainian church music.
Sylvestrov's works include seven symphonies (1963, 1965, 1966, 1976, 1980–2. 1994–5, 2002–3); the symphonic works Classic Overture (1964), Hymn (1967), and Poem (in memory of Borys Liatoshynsky, 1968); Spectrum (1965), Intermezzo (1983), and Hymn (2001) for chamber orchestra; Serenade (1978), Elegy (2000–2), and Farewell Serenade (2003) for string orchestra (1978); Postludium, a symphonic poem for piano and orchestra (1984); Meditation for cello and chamber orchestra (1972); Mysteries for alto flute and percussion (1964); Projections for harpsichord, vibraphone, and bells (1965); Sonata for violin and piano (1970); Postludium for cello and piano (1982); Drama for violin, cello, and piano (1971), and numerous other works of chamber music; Children's Music (1973); liturgical hymns; and cantatas and art songs to texts by Taras Shevchenko, Mikhail Lermontov, Aleksandr Pushkin, John Keats, and others. He has also scored film music.
In 2011 a book Dochekatysia muzyky (To Await the Music), based on a series of his public lectures and concerts, was published in Kyiv.
BIBLIOGRAPHY
Schwarz, B. Music and Musical Life in Soviet Russia 1917–1970 (London 1972)
Pavlyshyn, S. V. Syl'vestrov (Kyiv 1988)
Roman Savytsky, Marko Robert Stech
[This article was updated in 2011.]