Kyiv Ukrainian Drama Theater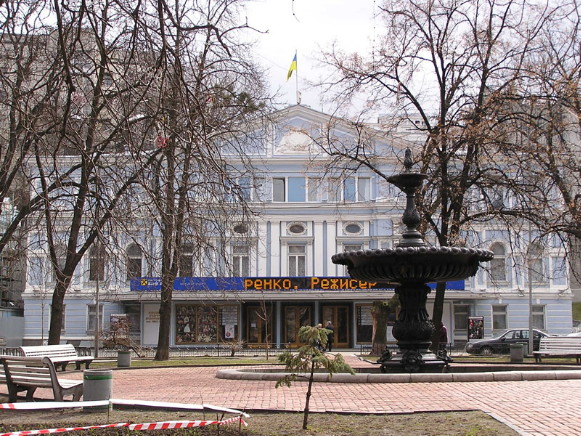 Kyiv Ukrainian Drama Theater (Національний академічний драматичний театр ім. Івана Франка; Natsionalnyi akademichnyi dramatychnyi teatr im. Ivana Franka). One of the leading drama theaters in Ukraine. It arose in January 1920 in Vinnytsia as the Franko New Drama Theater out of the union of the New Lviv Theater with a Molodyi Teatr group led by Hnat Yura. After touring Ukraine (Cherkasy, Kamianets-Podilskyi, and the Donets Basin) for three years, it performed in Kharkiv until 1926, then moved to Kyiv. In this early period, it usually repeated plays from the Molodyi Teatr repertoire. Although the company experimented with symbolism and expressionism, it adhered, generally, to realism, and in the early 1930s without much resistance adopted socialist realism. Hence it was spared political persecution, and after the suppression of the Berezil theater, enjoyed official favor and attained the status of a national theater representing Ukraine. In the 1920s its Ukrainian repertoire included not only Ivan Karpenko-Kary's and Mykhailo Starytsky's but also Volodymyr Vynnychenko's plays, and some of Mykola Kulish's work: eg, 97, Komuna v stepakh (Commune in the Steppes), and Myna Mazailo. One of its most successful productions of a drama classic was that of William Shakespeare's A Midsummer Night's Dream. The theater produced over 20 modern plays by famous playwrights ranging from Henrik Ibsen to George Bernard Shaw. One of the best productions among them was that of an adaptation of Josef Hašek's The Good Soldier Schweik.
In the 1929–41 period its repertoire consisted mostly of socialist-realist plays such as Ivan Mykytenko's Dyktatura (Dictatorship), Kadry (Cadres), Divchata nashoï krainy (Girls of Our Country), and Solo nafleiti (Flute Solo); Oleksander Korniichuk's Zahybel' eskadry (The Destruction of the Squadron), Platon Krechet, Pravda (Truth), Bohdan Khmel'nyts'kyi, and V stepakh Ukraïny (In the Steppes of Ukraine); Leonid Pervomaisky's Nevidomi soldaty (Unknown Soldiers) and Mistechko Ladeniu (The Town of Ladeniu); Ivan Kocherha's Maistry chasu (Masters of Time); Volodymyr Sukhodolsky's Ustym Karmaliuk; and Myroslav Irchan's Pliatsdarm (The Battle Zone). The number of Ukrainian and Russian classics and of contemporary Russian dramas in its repertoire increased. Of the world classics only Johann Christoph Friedrich von Schiller's Don Carlos and William Shakespeare's Much Ado about Nothing were staged.
During the Second World War the company was evacuated to Semipalatinsk, Kazakhstan, where it played for military and collective-farm audiences. In 1944 it returned to Kyiv and continued its standard repertoire. It staged 10 plays by Oleksander Korniichuk as well as plays by Yakiv Bash and Vasyl Mynko. Since 1956 the most often produced plays have been Mykola Ya. Zarudny's Veselka (The Rainbow), Maryna (an adaptation of Taras Shevchenko's poem), Na s'omomu nebi (In Seventh Heaven), and Za Sybirom sontse skhodyt' (The Sun Rises beyond Siberia) and Oleksii Kolomiiets's Faraony (The Pharaohs), Planeta Speranta (The Planet Speranta), Dykyi Anhel (The Wild Angel), and Kamin' rusyna (A Ruthenian's Stone). The most important plays in the company's repertoire are Ivan Kocherha's Iaroslav Mudryi (Yaroslav the Wise) and Svichchyne vesillia (Svichka's Wedding), Ya. Bash's Profesor Buiko (Professor Buiko), Vadym Sobko's Za druhym frontom (Beyond the Second Front), Yurii Yanovsky's Duma pro Brytanku (Duma about Brytanka), Liubomyr Dmyterko's Divocha dolia (Girls' Fate), Vasyl Mynko's Ne nazyvaiuchy prizvyshch (Without Naming Names), Sava Holovanivsky's Istyna dorozhche (Truth Is Dearer), and Mykola Rudenko's Na dni mors'komu (On the Sea Bed).
Its recent and current repertoire includes Ukrainian classics such as Lesia Ukrainka's U pushchi (In the Wilderness) and Kasandra (Cassandra), and world classics such as Sophocles' Antigone and William Shakespeare's King Lear and Macbeth. The Kyiv company has produced contemporary plays such as J. Priestley's They Came to a City, J. Gow and A. d'Usseau's Deep Are the Roots, and Friedrich Dürrenmatt's Der Besuch der alten Dame. It toured Poland in 1950.
Among the theater's artistic directors were Hnat Yura (1920–54), Serhii Danchenko (1978–2001), and Bohdan Stupka (2001–12). Its stage directors have been B. Glagolin, Kost Koshevsky, B. Nord, Marian Krushelnytsky (1954–61), Volodymyr Ohloblyn, V. Lyzohub, and Serhii Danchenko (1978–2001). The sets have been designed by Fedir Nirod, Anatol Petrytsky, Vadym Meller, B. Erdman, Matvii Drak, Morits Umansky, Heorhii Tsapok, and Danylo Lider. Among its music directors have been Heorhii Maiboroda, Platon Maiboroda, Ihor Shamo, and N. Pruslin. Its distinguished actors have included Amvrosii Buchma, Yurii Shumsky, Terentii Yura, Oleksander Yura-Yursky, Dmytro Miliutenko, Viktor Dobrovolsky, Oleksii Vatulia, Olha Rubchak, Teodosiia Barvinska, Nataliia Uzhvii, Olha Kusenko, Arkadii Hashynsky, Yevhen Ponomarenko, Volodymyr Dalsky, Nonna Koperzhynska, Stepan Oleksenko, Yuliia Tkachenko, Bohdan Stupka, Bohdan Beniuk, and Anatolii Khostikoiev. The theater building was designed by Georgii Shleifer and E. Bratman and completed in 1898. A third story was added by V. Kolchynsky in 1959–60. Today the theater seats 1,100 people.
BIBLIOGRAPHY
Ryl's'kyi, M. (ed). Ukraïns'kyi dramatychnyi teatr, vol 2 (Kyiv 1959)
Boboshko, Iu. Kyïvs'kyi derzhavnyi ordena Lenina akademichnyi ukraïns'kyi teatr im. Ivana Franka (Kyiv 1970)
Valerian Revutsky
[This article was updated in 2013.]