Lviv National Academic Theater of Opera and Ballet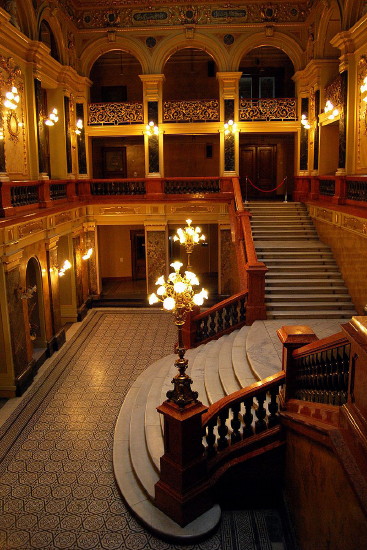 Lviv National Academic Theater of Opera and Ballet [Львівський національний академічний театр опери та балету ім. С. Крушельницької; Lvivskyi natsionalnyi akademichnyi teatr opery ta baletu im. S. Krushelnytskoi]. Founded in 1940 in Lviv in the former Lviv Municipal Theater built in 1900 by the architect Z. Gorgolewsky. It functioned until 1941 (see Lviv Opera Theater), and then was re-established under the new Soviet regime in Lviv under the name Lviv Theater of Opera and Ballet named after Ivan Franko. In 2000 the theater was granted the national academic theater status and renamed in honor of Solomiia Krushelnytska.
The theater staged productions of the classical European repertoire and of Ukrainian and contemporary operas, including Mykola Lysenko's Taras Bulba and Utoplena (The Drowned Maiden), Kostiantyn Dankevych's Bohdan Khmelnytsky, Yulii Meitus's Moloda Gvardiia (The Young Guard) and Ukradene shchastia (Stolen Happiness), Vitalii Kyreiko's Lisova Pisnia (The Forest Song), Anatol Kos-Anatolsky's Zahrava (Incandescence) and his ballet Soichyne krylo (The Jay's Wing), and Borys Liatoshynsky's Zolotyi obruch (The Golden Ring). Opera soloists included P. Duma, Pavlo Karmaliuk, N. Shevchenko, V. Herasymenko, Z. Holovko, M. Popil, and Yu. Lysiansky. Ballet soloists included Nataliia Slobodian, M. Tryhubiv, and Oleh Stalinsky. The conductors were Ya. Voshchak and Yurii Lutsiv, and the directors were O. Hrechnov and Serhii Smiian. The scenery designers were Fedir Nirod and Oleksander Salman.
[This article was updated in 2016.]