Pavlyk, Mykhailo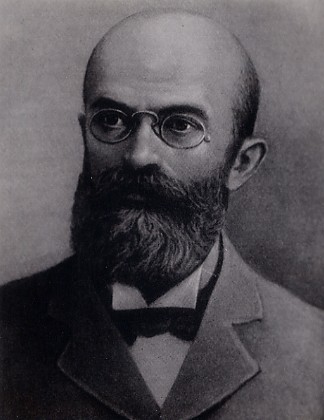 Pavlyk, Mykhailo (pseuds: M. Halytsky, M. Ivaniv, Khmara, M. Kolomyichuk, Maksym, Mykhailo, M. Pokutsky, M. Tkachenko), b 17 September 1853 in Monastyrske (now part of Kosiv), Kolomyia circle, Galicia, d 26 January 1915 in Lviv. (Photo: Mykhailo Pavlyk.) Galician socialist figure and publicist; full member of the Shevchenko Scientific Society from 1900. He and Ivan Franko became close friends as students at Lviv University. Both of them contributed to the Academic Circle's organ, Druh (1874–7), and both became Ukrainophile socialists under the influence of Mykhailo Drahomanov's letters to Druh and the Polish-language newspaper Praca. Through his writings Pavlyk remained the principal Galician propagator of Drahomanov's ideas, which brought about his persecution (he was tried in court nearly 30 times), imprisonment (in 1877, 1878, 1882, 1885–6, and 1889), and ostracism. In 1876 he played a key role in the Academic Circle's change in orientation from a Russophile to a Ukrainophile body and in the creation of an unofficial student ethnographic society in Lviv. He became involved in smuggling proscribed Ukrainian literature into the Russian Empire. With Franko he edited (1878) the socialist journal Hromads'kyi druh and miscellanies Dzvin and Molot, all of which outraged the conservative Galician public and were confiscated by the police. In them he published his story 'Rebenshchukova Tetiana' (Rebenshchuk's Tetiana), portraying the evils of forced marriage and peasant brutality; the antiwar, anticonscription story 'Iurko Kulykiv'; and the anticlerical, anti-Russophile novelette 'Propashchyi cholovik' (A Doomed Man).
In 1879 Pavlyk avoided a six-month prison term, which he received for writing 'Rebenshchukova Tetiana,' by fleeing to Geneva, where he worked with Drahomanov and Serhii Podolynsky on the journal Hromada (Geneva). In 1882 he returned to Lviv and served his sentence. In 1887–8 he lived in Cracow, where he cataloged the library of the Polish writer Józef Kraszewski. In 1889 he was the editor of the Lviv paper Bat'kivshchyna, but he was forced to resign over political differences. Pavlyk and Franko founded the Ukrainian Radical party (URP) in 1890 and edited its organs Narod (1890–5; in 1892–4 in Kolomyia) and Khliborob (Lviv, Kolomyia) (1891–5). Pavlyk then worked in Lviv as the first librarian of the Shevchenko Scientific Society (1897–1904), headed the URP (1898–1914), and edited its newspaper Hromads'kyi holos (1898–1903). In 1914 he was elected vice-chairman of the Supreme Ukrainian Council in Lviv and served briefly as editor of Dilo.
Pavlyk devoted most of his time to editing periodicals and books and to political journalism. Most of his articles and critiques appeared in Narod and Hromads'kyi holos. He advocated humane anarcho-socialism, the separation of church and state, and national and sexual freedom and equality; and he condemned Polish domination of the Western Ukrainians, capitalist exploitation, and the reactionary Russophiles and Galician clergy, and criticized orthodox Marxists (especially their views on the national question) and the Galician populists (see Populism, Western Ukrainian). He wrote a book on the development of Western Ukrainian community organizations (1887); translated into Ukrainian works by G. Uspensky, Nikolai Leskov, A. Tolstoi, and H. Ibsen, J.W. Draper's History of the Conflict between Religion and Science, G. Hauptmann's Die Weber (1898), A. Ostrovsky's Groza (The Storm, 1900), and W. Reymont's novel Chłopi (Peasants, 1909); and edited and published a jubilee compendium on Mykhailo Drahomanov (1896) and, in Zhytie i slovo (1896–7), Drahomanov's correspondence with various Galician figures. He compiled a bibliography of Ivan Franko's writings (1898); wrote scholarly articles on J. Gawatowicz (the author of the first Ukrainian intermede, 1900), and Drahomanov's study of incest (1907), a booklet on the Galician Russophiles and Ukrainophiles (1906), and two books about Drahomanov (1907, 1911); and edited publications of his own correspondence with Drahomanov (vols 2–8, 1910–12), Drahomanov's folkloristic studies (1907), and Drahomanov's correspondence with Teofil Okunevsky (1905) and Meliton Buchynsky (1910).
An edition of Pavlyk's stories was published in 1909. Soviet editions of his selected works were published in 1955, 1959 (including the first full version of his novelette about Hutsul life, 'Vykhora' [The Whirlwhind]), and 1985. A book commemorating 30 years of his public activity appeared in 1905; an edition of folk songs he collected and transcribed appeared in 1974; and P. Babiak and V. Poliek's bibliography of works by and about him was published in 1986 by the Lviv Scientific Library of the Academy of Sciences of the Ukrainian SSR. Books about Pavlyk have also been written by P. Yashchuk (1959), I. Denysiuk (1960), P. Manzenko (1962), and V. Kachkan (1986).
Roman Senkus
[This article originally appeared in the Encyclopedia of Ukraine, vol. 3 (1993).]