Rilke, Rainer Maria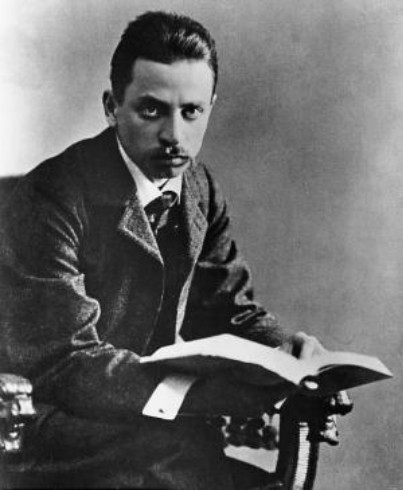 Rilke, Rainer Maria, b 4 December 1875 in Prague, d 29 December 1926 in Val-Mont, Switzerland. Austro-German poet, acclaimed especially for his collections Duineser Elegien (1923) and Die Sonette an Orpheus (1923). His poetry, characterized by a subtle and dense symbolism and by its profoundly philosophical reflection on self and world, influenced the development of literary modernism, not least in Ukraine.
Rilke's journeys to the Russian Empire in the spring of 1899 and summer of 1900 were an early and formative experience. The second took him south from Moscow to Ukraine, where he visited Kyiv, Kaniv (Taras Shevchenko's grave on Chernecha Hill), and Poltava. Rilke is known to have been interested at the time in the early, thematically Ukrainian stories of Nikolai Gogol, and to have acquired a copy of Shevchenko's Kobzar in Russian translation. He did not, however, clearly distinguish between Russia and Ukraine, and his responses to what he saw in Russia and Ukraine were strongly influenced by the turn-of-the-century myth of the simple and god-seeking 'Russian soul.'
Thematic echoes of the Ukrainian journey can be found in 'Das Buch von der Pilgerschaft,' which forms the second part of Das Stunden-Buch (1905); in 'Karl der Zwölfte von Schweden reitet in der Ukraine' and 'Sturm,' both in Buch der Bilder (1902); and in two prose works from Geschichten vom lieben Gott (1900), 'Wie der alte Timofei singend starb' and 'Das Lied von der Gerechtigkeit.' Rilke also translated the medieval epic Slovo o polku Ihorevi (The Tale of Ihor's Campaign, 1902–4).
Selections of Rilke's poems was translated into Ukrainian by Bohdan Kravtsiv: Rechi i obrazy (Objects and Images, 1947) and Moisei Fishbein: Sto poezii (A Hundred Poems, 2012). Yurko Prokhasko's Ukrainian translation of Rilke's novel Notatky Mal'te Lauridsa Brigge (The Notebooks of Malte Laurids Brigge) was published in Kyiv in 2010. Other translators of Rilke's poetry have included Mykola Zerov, Maik Yohansen, Ostap Lutsky, Yurii Lypa, Yurii Klen, Leonid Mosendz, Mykhailo Orest, Mykola Bazhan, Ihor Kostetsky, Leonid Pervomaisky, Oleh Zuievsky, Vasyl Stus, and Yuri Andrukhovych.
BIBLIOGRAPHY
Pelens'kyi, Ie. Rainer Mariia Ril'ke i Ukraïna (Lviv 1935)
Izars'kyi, O. Ril'ke na Ukraïni (Phildalephia–Kyiv 1952)
Nahirnyi, M. 'Tvorchist' Rainera Marii Ril'ke v rakursi ukraïns'koï tematyky,' Ukraïns'ke literaturoznavstvo, (1985), no. 45
Bohdan Kravtsiv, Marko Pavlyshyn
[This article was updated in 2013.]