Switzerland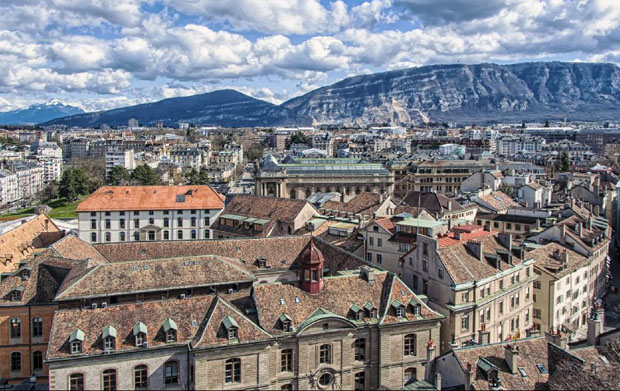 Switzerland. A country (2019 pop 8,570,146) in the Alpine region of central Europe, covering an area of 41,290 sq km. The major languages of the country are German (mother tongue of 65 percent), French (18 percent), and Italian (10 percent). About 48 percent of the population is Roman Catholic, and 44 percent is Protestant. Switzerland's liberal government and neutrality in the world wars made it a refuge for political émigrés, including Ukrainians. Although their number was never large, Ukrainians in Switzerland have played an important role in Ukrainian cultural and political history.
Before the 1870s. The earliest contacts between Ukraine and Switzerland were sporadic. The first Swiss visitors to Ukraine were Socinians in the 16th century. The archives of the Reformation Library in Geneva contain the works of Symeon Budny and other Socinians from Ukraine. The architect Petrus Italus of Lugano built the Dormition Church in Lviv (1547), as well as a Roman Catholic church, and a number of other buildings in Lviv. Starting in the 16th century Ukrainians (registered as Rutheni, Lituani, or Poloni) studied at Basel University.
Before 1708 Ivan Skoropadsky, colonel of the Starodub regiment, visited Switzerland several times and corresponded with Swiss acquaintances. One of his descendants, I. Skoropadsky, built the Trostianets Dendrological Park in the mid-19th century and named a section of it Switzerland. After abdicating his hetmancy Kyrylo Rozumovsky lived in Switzerland, in 1765–7. His son Hryhorii worked on an estate near Lausanne in 1783–93 and founded the Society of Physical Science there. During the first half of the 19th century Nikolai Gogol (1837) and Prince Nikolai Repnin, with his wife and daughter Varvara Repnina, stayed briefly (1836–9) in Switzerland. Varvara's correspondence with Swiss public figures has been preserved in libraries in Geneva and Lausanne.
In 1820–46 the Russian government supported the immigration of French-speaking Swiss from Vaud canton into southern Bessarabia. Under the leadership of L.V. Tardan from Vevey, they established the Shabo (Shaba) colony on the Dnister Estuary near Akkerman. The settlers helped develop viniculture, wine making, and fruit growing there. In the 1850s there were 300 Swiss living in Shabo. In the 1860s and 1870s they were joined by newcomers from German cantons. The colonists imported valuable varieties of grape – Cabernet, Sauvignon, Riesling, and Muscat. The Romanian census of 1930 recorded 300 German and 250 French Swiss in Shabo. When the Soviets occupied the region in 1940, most of the Swiss colonists returned to Switzerland. The few that stayed assimilated with the Ukrainian population.
1870s–1905. Ukrainian immigrants and students began to arrive in Switzerland in the second half of the 19th century. The first important center of Ukrainian and Russian immigration was Zürich, where Ukrainian students studied at the university and the polytechnic. In 1872 a student reading hall was established, with approximately 100 Ukrainian and 100 Russian members. The Ukrainian colony included Serhii Podolynsky, I. Chernyshov, S. Slyvynsky, and Vasyl Nahirny (who stayed in Switzerland to work as an architect until 1882). Mykhailo Drahomanov lived in Zürich for a few months and participated with S. Podolynsky and Mykola Ziber in a Ukrainian-Russian socialist conference in 1873.
After leaving Ukraine in 1876, Mykhailo Drahomanov settled in Geneva and devoted himself to political work and publishing until 1889. He established a socialist circle, which included Serhii Podolynsky, Mykhailo Pavlyk (1878–82), Fedir Vovk (1879–87), Mykola Ziber, and Yakiv Shulhyn. In Geneva Drahomanov published the collection Hromada (Geneva) (5 vols, 1878–82) and (together with M. Pavlyk and S. Podolynsky) Hromada—ukraïns'ka chasopys' (2 issues, 1881). As well, he published a large number of brochures on the Ukrainian national question in Ukrainian, Russian, and the west European languages. In 1876 he established the Ukrainian Press, which was run by Antin Liakhotsky from 1878 to 1917.
Various Russian anarchist and revolutionary groups had branches in Switzerland, in which Ukrainians such as M. Zhukovsky, Sergius Stepniak, Mykola Kybalchych, and Yakiv Stefanovych were active. Among the Ukrainians who lived in Switzerland during this period were Y. Polinkovsky (d 1935), a lecturer at the Commercial Higher School in Sankt Gallen and an opponent of Mykhailo Drahomanov, and the physician K. Yuriiv (1846–1927), a resident of Lausanne for the last 25 years of his life. Before the First World War Volodymyr Antonovych, Averkii Honcharenko, M. Sudzylovsky, Pavlo Chyzhevsky, and Oleksander Kovalenko stayed briefly in Switzerland.
1906–20. Other than Mykhailo Drahomanov's circle Ukrainian organizations in Switzerland arose late and were usually short-lived. In 1906–7 the Ukrainian Hromada, headed by Antin Liakhotsky, was active in Geneva. Before the war Tyt Teodosii Halushchynsky, Havryil Kostelnyk, and Vasyl Laba studied at Fribourg University. With the outbreak of the First World War Ukrainians in Switzerland became more active, not only in social and cultural but also in political activities. There were about 50 Ukrainians known to be there: 20 in Geneva, 15 in Lausanne, and the rest in Zürich, Bern, and Basel. In 1915 another Ukrainian hromada, the Société Ukrainienne Gromada, was set up under the presidency of A. Liakhotsky. Unable to reconcile himself to the political engagement and independentist posture introduced by the recently arrived Volodymyr Levynsky and Evhen Batchinsky, Liakhotsky soon resigned from the hromada. On 15 May 1915 the hromada appealed to European public opinion to protest Russian policy in occupied Galicia and to defend the persecuted Greek Catholic churches.
During the war (1914–18) the Ukrainians in Lausanne informed the general public about Ukrainian issues. The French-language organ of the Union for the Liberation of Ukraine, La Revue ukranienne, was published there. Evhen Batchinsky organized a Ukrainian library and bookstore, which distributed Ukrainian publications not only in Switzerland but in all European countries. The semimonthly L'Ukraine (1915–20), published by Volodymyr Stepankivsky with the collaboration of Mykhailo Tyshkevych, also came out in Lausanne. In 1918–19 its chief editor was the Swiss journalist E. Privat, and his assistant was E. Batchinsky. In 1917 V. Stepankivsky organized the Ukrainian Bureau, a special representative office with information and political tasks (see Press and information bureaus abroad). It had 20 employees, only 8 of them Ukrainians (including M. Tyshkevych, E. Batchinsky, Oleksander Kovalenko, Dmytro Manuilsky, and V. Polisadiv). The office manager was the pastor G. Neymark, and the chief secretary was J. Fortey, who later worked in the Secretariat of the League of Nations. The bureau closed down in 1921.
Because the hromada in Geneva became inactive, an émigré group of the Ukrainian Social Democratic Workers' party began mobilizing and published the journal Borot'ba (1915–16) under the editorship of Lev Yurkevych. Yurkevych published the brochure L'Ukraine et la Guerre in 1916, in Geneva, as well as an essay criticizing Vladimir Lenin's nationality policy in 1917. In 1916–17 Dmytro Dontsov headed the Bureau of the Nationalities of Russia in Bern and published its bulletins (65 issues), with the assistance of Fedir Koroliv. In 1917 the Ukrainian General Union, which included not only Ukrainians from Galicia and central Ukraine but also Jews from Ukraine, was active for a short time in Zürich.
At the end of 1918 a Ukrainian diplomatic mission, headed by Yevmen Lukasevych and then Mykola Vasylko, was sent to Switzerland by the Hetman government and was kept there by the Directory of the Ukrainian National Republic. A semiofficial Ukrainian consulate was opened in Lausanne and then in Bern. It was directed by Evhen Batchinsky and Yevhen Sokovych. There was also a Ukrainian consulate in Zürich, where S. Kuoni served as honorary consul. Under the Hetman government there was a Swiss consulate in Kyiv. Pavlo Chyzhevsky headed a Ukrainian trade delegation that arrived in Switzerland in 1918 and then initiated the Ukrainian-Swiss Chamber of Commerce, which supplied all of Europe with information on trade with Ukraine as well as information about Ukraine's political aspirations. The Swiss diplomat Ch. Nicole was president of the chamber. With the help of Stepan Perepelytsia, Fedir Koroliv, and Yevhen Tymchenko, P. Chyzhevsky founded the Ukrainian Committee in Geneva in 1919. It published a number of brochures in French and English arguing for Ukraine's independence. At the end of 1919 the Ukrainian Club, headed by P. Chyzhevsky and then by E. Batchinsky, was set up in Geneva. It collaborated with the Ukrainian National Republic mission in Berlin, and in 1934 it was renamed the Ukrainian-Swiss Club.
In 1917–20 many Swiss visited Ukraine, and many supported Ukraine's independence or in some way helped the envoys of the Ukrainian government to Switzerland. Col Du Bois was a member of a mission sent by the political department of the Swiss government to Ukraine in the summer of 1918. In his articles in Der Bund and Neue Züricher Zeitung Du Bois spoke out for Ukraine's independence. The editor of Journal de Genève, P. Du Bochet, visited Symon Petliura in Vinnytsia in February 1919 and published articles favorable to Ukraine in Tribune de Genève. J.E. David, the editor of Gazette de Lausanne (1913), and Col E. Lederrey, whose reports appeared in Tribune de Genève and Journal de Genève, visited Ukraine in 1919. E. Kuhne, the editor of Tribune de Genève, supported Ukraine's renaissance in his numerous articles in 1917–21. The editor of Exprès de Neuchâtel, J. Patrie, collaborated with the UNR diplomatic mission in Bern and included articles on Ukrainian affairs in the publication. Among Swiss politicians who co-operated with the UNR mission were E. Oesch, the author of the brochure Ukraine und Schweiz (1918), and R. Claparède.
1920–40. In the interwar period Switzerland continued to be a haven for Ukrainian political leaders. Geneva, which was the seat of the League of Nations and a major center for foreign diplomats, politicians, and journalists, became particularly important. The question of minority rights in Poland (and, to a lesser degree, Romania and Czechoslovakia) was raised at the league, and the Ukrainian position was presented by Ukrainian parliamentarians from Western Ukraine— Milena Rudnytska, Vasyl Mudry, Stepan Baran, Dmytro Levytsky, Zynovii Pelensky, Volodymyr Zalozetsky-Sas, and Ivan Kurtiak; the Canadian MP Michael Luchkovich; and the unofficial representative of the Government-in-exile of the Ukrainian National Republic, Oleksander Shulhyn. The plenipotentiary of the UNR government-in-exile for Switzerland was Hanna Chykalenko-Keller. Political activists, such as Yevhen Konovalets (1930–6), Makar Kushnir, Oleksander Boikiv, and Vasyl Paneiko, stayed in Switzerland. The Famine-Genocide of 1932–3 in Ukraine was extensively covered by Le Journal de Genève, Gazette de Lausanne, and La Suisse libérale in Neuchâtel; La Liberté in Fribourg; and Neue Züricher Zeitung. G. Motta, a long-term member and head of the Swiss government, was particularly well disposed to Ukrainians.
From 1922 Evhen Batchinsky was the official representative of the Ukrainian Autocephalous Orthodox church in Western Europe and the liaison of the Ukrainian Red Cross to its parent International Committee in Geneva. The press agency Ofinor (Office of Eastern Information) was headed by Mykhailo Yeremiiv in Geneva (1928–44). Mykola Trotsky ran the Ukrainian Information Bureau in Geneva from 1932. The Ukrainian student association Ukraina, which had several dozen members, was active in Geneva in 1929–35.
1940–5. During the Second World War only charitable and cultural organizational activities were permitted by the Swiss authorities. The country's Ukrainian population was increased by POWs from the Polish army (1940) and then from the Soviet Army as well as by escapees from forced labor in Germany (Ostarbeiter). They were interned in camps until 1945, when most of them were deported to Ukraine on the demand of the Soviet repatriation committee.
Post–1945. After the Second World War new Ukrainian immigrants began to arrive in Switzerland from Germany, Austria, and Italy. By the beginning of the 1950s there were almost 70 Ukrainians in Switzerland. In 1945 the Sokil Student Society (later the Academic Hromada) was organized in Bern. It was headed by M. Vus and R. Prokop. Now the Ukrainian Committee in Switzerland has its head office in Bern.
The Ukrainian Relief Committee, led by Milena Rudnytska, was active in Geneva (1946–50). The Ukrainian Relief Alliance was founded in Zürich in 1950 and was headed by V. Lytvyn and then V. Stykhar. For a while it published Tryzub. The Ukrainian community in Zürich included the singer Ira Malaniuk, the ballet master Vladimir Libovicki, the writer L. Semaka, and the C.G. Jung Institute lecturer Petro Polishchuk.
In 1951 the Alliance of Ukrainians in Switzerland (OUSh) was formed as a central representative body. Its presidents have included Antin Chernetsky, I. Porodko, Ivan Luchyshyn, M. Havryliuk, A. Huchkivsky, and R. Prokop. In the 1980s the OUSh had a membership of about 70 families or 100 individuals. In 1974 it changed its name to the Ukrainian Society in Switzerland. In 1981 the Ukrainian Women's Society in Switzerland was formed.
A number of artists and musicians worked in Switzerland: the pianist and composer Omelian Nyzhankivsky, the Geneva Opera singer Oleh Nyzhankivsky, the painter Zoia Lisovska, the graphic artist L. Vynnyk, and the painter Ivan Kurakh. Other notable Swiss Ukrainians include Antin Chernetsky, Ivan Luchyshyn, Yevhen Vretsona, M. Kachaluba, S. Shutko, Bohdan Hawrylyshyn, Ihor Sukhoversky, and B. Lototsky. In the 1970s and 1980s the Berlin correspondent of Neue Züricher Zeitung, Bohdan Osadchuk, informed the Swiss public about Ukrainian affairs.
Revs P. Holynsky, Myroslav Liubachivsky, Ya. Peridon, D. Dzvonyk, O. Sydoriv, and P. Kostiuk and Bishops Ivan Buchko, Myroslav Marusyn, and Michael Hrynchyshyn have served the Ukrainian Catholic community in Switzerland; Revs Andrei Metiuk, V. Vyshnivsky, and V. Husiv have served the Orthodox. In 1955–78 Evhen Batchinsky was bishop of the Ukrainian Autocephalous Orthodox Church (Conciliar) in Switzerland.
The pedagogical works of J. Pestalozzi (1938) and some literary works of G. Keller (1900, 1906) and C. Meyer (1913) have been translated into Ukrainian. Of contemporary literature, some works by Friedrich Dürrenmatt and Max Frisch have appeared in Ukrainian.
BIBLIOGRAPHY
Oesch, E. (ed). Ukraine und Schweiz (Zürich 1918)
Hrushevs'kyi, M. (ed). Z pochatkiv ukraïns'koho sotsiialistychnoho rukhu: M. Drahomanov i zhenevs'kyi sotsiialistychnyi hurtok (Vienna 1922)
Bachyns'kyi, Ie. 'Ukraïns'ka Drukarnia v Zhenevi,' Naukovyi zbirnyk UVAN, 2 (New York 1953)
Makovets'kyi, Ia. 'Ievhen Konovalets' u Shvaitsarii,' in Ievhen Konovalets' ta ioho doba (Munich 1984)
Arkadii Zhukovsky
[This article originally appeared in the Encyclopedia of Ukraine, vol. 5 (1993).]