National Museum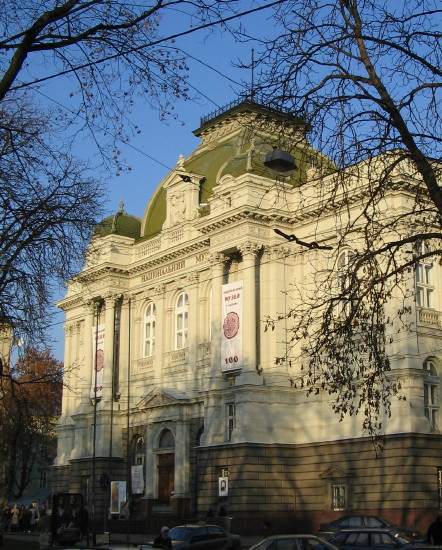 National Museum [Національний музей; Natsionalnyi muzei]. A museum in Lviv, founded as a church museum in 1905 by Metropolitan Andrei Sheptytsky at his consistory. It was expanded, named the National Museum in 1909, placed under the authority of independent curators, and moved in 1911 to the building (bought by Sheptytsky) where it is currently housed. In 1939 to 1990 it was called the Lviv Museum of Ukrainian Art.
Before the Second World War, the National Museum had departments of archeology, folk art, church antiquities, modern Ukrainian art, monuments of cultural history, numismatics, and sphragistics; a major library; and an invaluable collection of over 1,600 manuscript books, 2,400 early printed books, and more than 5,000 archival documents pertaining to the cultural and church history of Galicia.
The folk-art department boasted a valuable collection of 17th- and 18th-century kilims, Easter eggs, tapestries, and embroidery. The church antiquities department housed the largest extant collection of 14th- to 18th-century Galician icons, wooden engraved crosses, vestments, candelabras, chalices, and iconostases. The modern Ukrainian art department possessed works of 19th- and early 20th-century painters, such as Alexander Archipenko, Mykhailo Boichuk, Lev Gets, Mykola Hlushchenko, Mykola Ivasiuk, Ivan Izhakevych, Teofil Kopystynsky, Olena Kulchytska, Fotii Krasytsky, Vasyl H. Krychevsky, Kostiantyn Kryzhytsky, Osyp Kurylas, Petro Levchenko, Antin Manastyrsky, Vitold Manastyrsky, Porfyrii Martynovych, Mykola I. Murashko, Oleksander Murashko, Oleksa Novakivsky, Nykyfor, Volodymyr Orlovsky, Yuliian Pankevych, Yustyn Pihuliak, Mykola Pymonenko, Mykola Rokytsky, Tyt Romanchuk, Oleksa Shatkivsky, Oleksa Skrutok, Modest Sosenko, Serhii Svitoslavsky, Stepan Tomasevych, Ivan Trush, Kornylo Ustyianovych, Serhii Vasylkivsky, and Martyn Yablonsky, and sculptors, such as Hryhorii Kuznevych, Mykhailo Parashchuk, Ivan Severa, and Petro Viitovych. The cultural history department housed portraits of notable figures of the 16th to 18th centuries, a collection of Shevchenkiana (including a self-portrait of Taras Shevchenko), and artifacts from the period of Ukrainian struggle for independence (1917–20). The library held 30,000 titles on Ukraine and Ukrainians, with a particular emphasis on art and museology. The collection of 14th- to 18th-century incunabula, books, and manuscripts includes the first printed works issued by Schweipolt Fiol and Frantsisk Skoryna, Ivan Fedorovych (Fedorov)'s Apostolos, the Zabłudów Gospel (1569), the Kyivan Cave Patericon (1703), various early maps and engravings, and Ukrainian and other Slavic manuscripts. These exhibits showed the development of Ukrainian ornamentation and book miniatures (eg, by Oleksander Tarasevych, Leontii Tarasevych, and Nykodym Zubrytsky). The National Museum possessed over 80,000 objects. Under the longtime curator and director (1905–52) Ilarion Svientsitsky the staff were engaged in research, which was published in 16 volumes of Zbirky Natsional'noho muzeiu, containing various archival catalogs and icons, oil printed books, and church art and architecture, and in the journal Litopys Natsional'noho muzeiu (1934–9). The museum held close to 70 exhibitions.
Under Soviet rule, until 1990, it was called the Lviv Museum of Ukrainian Art; it had seven departments, including a Soviet socialist-realist art department (est 1947). In the 1940s, the National Museum's historical, numismatic, sphragistic, and archeological collections were transferred to the Lviv Historical Museum; part of its folk-art collection was transferred to the Ukrainian State Museum of Ethnography and Crafts; and the collection of paintings by Western European masters was transferred to the Lviv Art Gallery. In 1952 over 2,100 artworks, including sculptures by Alexander Archipenko and paintings by Mykhailo Boichuk, and 4,500 books were confiscated as 'ideologically harmful' by local Communist Party officials. Part of them were placed in spetsfondy; the majority of them were unlawfully destroyed, sold abroad, or misappropriated.
Today the National Museum contains over 100,000 objects, including paintings by Yosyp Bokshai, Mykola Burachek, Adalbert Erdeli, Z Flinta, Mykola Hlushchenko, Serhii Hryhoriev, Volodymyr Kostetsky, O. Lishchynsky, Vitold Manastyrsky, Liubomyr Medvid, Volodymyr Patyk, Margit Selska, Roman Selsky, Oleksii Shovkunenko, Hryhorii Smolsky, and Tetiana Yablonska; graphic works by Mykhailo Derehus, Stefaniia Gebus-Baranetska, Sofiia Karaffa-Korbut, Vasyl Kasiian, Z. Ketsalo, Olena Kulchytska, Volodymyr Kutkin, Leopold Levytsky, Petro Obal, Ivan Ostafiichuk, Olena Sakhnovska, Ivan Selivanov and Heorhii Yakutovych; and sculptures by Valentyn Borysenko, Mykhailo Brynsky, Yakiv Chaika, Yevhen Dzyndra, Halyna Kalchenko, Dmytro Krvavych, Emmanuil Mysko, and V. Odrekhivsky. Separate branches of the museum include smaller memorial museums devoted to the life and work of Olena Kulchytska (est 1971), Oleksa Novakivsky (est 1972), Leopold Levytsky, and Ivan Trush. In 1991 the museum was officially named after Metropolitan Andrei Sheptytsky. Several albums of art reproductions from the museum have been published, the most recent in 1987.
BIBLIOGRAPHY
Svientsits'kyi, I. (ed). Dvadsiat'piat'littia Natsional'noho muzeiu u L'vovi: Zbirnyk (Lviv 1930)
Nanovs'kyi, Ia.; Otkovych, V.; Oshurkevych, L.; et al (comps). L'vivs'kyi muzei ukraïns'koho mystetstva: Putivnyk (Lviv 1978)
Sofiia Yaniv
[This article was updated in 1996.]