Scythian art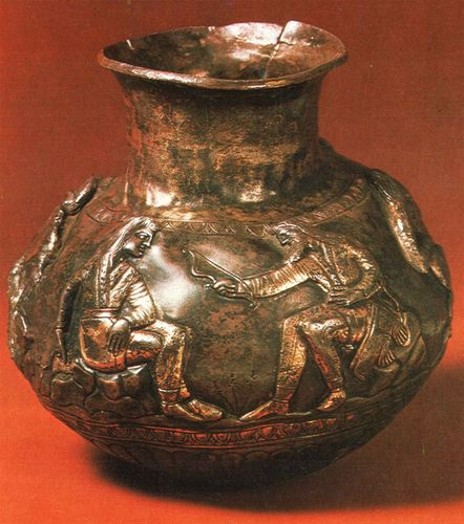 Scythian art. The art of the Scythians combined Eastern elements with influences from the Hellenic ancient states on the northern Black Sea coast. The combination gave the art an exquisite and unique quality. The center of Scythian art can be considered Panticapaeum, the capital of the Bosporan Kingdom. The many Scythian artifacts found in kurhans in Southern Ukraine and the Kuban were either imported from Greece or made by indigenous Hellenic and Scythian artisans. Scythian jewelery in particular attained a high level of intricacy and magnificence.
The principal feature of Scythian art is its use of a zoomorphic symbology. Objects found in Ukraine are distinguishable from their Caucasian counterparts, which reflect more the influence of Iranian, Urartian (ancient Armenian), Altaic, and, through this last, Chinese art. The Scythians fashioned gold objects depicting semirecumbent stags, deer, lions, panthers, horses and other domesticated animals, birds, and fantastic beasts (eg, griffins and sirens), as well as human faces, bodies, and groups of humans. Numerous vases, goblets, quivers, scabbards, combs, and other objects portray scenes from everyday life (eg, combat, farming, herding, taming horses, milking sheep, sewing skins) as well as motifs from Greek mythology and history. This symbology is often coupled with Greek geometric and floral ornamentation. Objects depicting griffins with lion's or eagle's heads tearing apart horses or deer personify evil forces; they were likely created as amulets.
The finest works of Scythian art have been excavated in the so-called Royal Scythian kurhans: Kul Oba kurhan, Haimanova Mohyla kurhan, Melitopol kurhan, Solokha kurhan, Krasnokutskyi kurhan, Tovsta Mohyla kurhan, and Chortomlyk kurhan (in Southern Ukraine) and the Velyka Blyznytsia, Kelermes, and Kostromska kurhans (in the Kuban).
In the 4th century BC, Hellenic influences began declining in the northern Black Sea littoral as a result of the in-migration of the Sarmatians and other Iranian tribes. In the 3rd century BC the Sarmatians forced the Scythians out of Southern Ukraine into Crimea, where a new Scythian art developed. On the site of the new Scythian capital, Neapolis, a mausoleum for luminaries, who were buried along with their horses, was excavated. Over 1,300 works of art were uncovered there, including frescoes with scenes of horseback riding and hunting.
During the 19th century many Scythian treasures were taken from Ukraine and Crimea to the Saint Petersburg Hermitage Museum. During the Crimean War a tsarist ukase ordered the transfer of all gold artifacts found in Ukraine to the Hermitage. Only the discoveries of Scythian art made by Academy of Sciences of the Ukrainian SSR (now NANU) archeologists in the last few decades of the 20th century can be found in Ukraine's museums today.
BIBLIOGRAPHY
Borovka, G. Scythian Art (New York 1928)
Jettmar, K. Art of the Steppes: The Eurasian Animal Style (London 1967)
Artamonov, M. Treasures from Scythian Tombs in the Hermitage Museum (Leningrad 1969)
Charriàere, G. L'Art barbare scythe de la Sibérie àa la Mer Noire (Paris 1971)
Leskov, A. Treasures from the Ukrainian Barrows: Latest Discoveries (Leningrad 1972)
Lieskov, O. Skarby kurhaniv Khersonshchyny (Kyiv 1974)
Vickers, M. Scythian Treasures in Oxford (Oxford 1979)
Mozolevs'kyi, B. Skifs'kyi step (Kyiv 1983)
Rolle, R.; et al (eds). Gold der Steppe: Archüaologie der Ukraine (Schleswig 1991)
Jacobson, E. The Art of the Scythians: The Interpretation of Cultures at the Edge of the Hellenic World (Leiden–New York 1995)
Alekseev, A. Khronografiia Evropeiskoi Skifii (Saint Petersburg 2003)
Sviatoslav Hordynsky
[This article originally appeared in the Encyclopedia of Ukraine, vol. 4 (1993).]