Gorbachev, Mikhail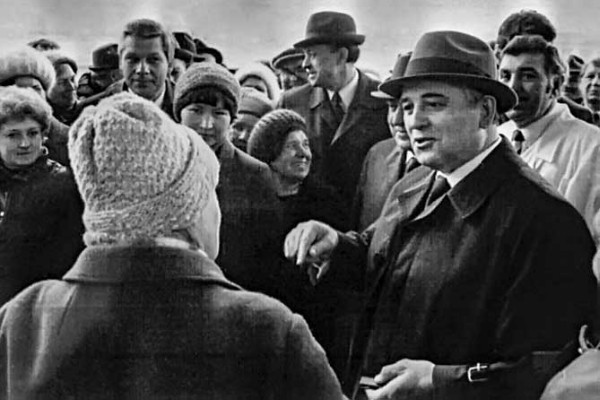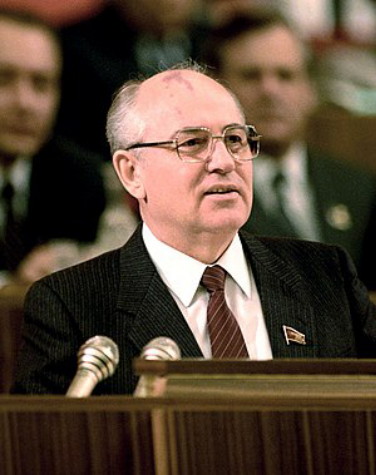 Gorbachev, Mikhail [Горбачёв, Михаил; Gorbač'ov, Mixail], b 2 March 1931 in Privolnoe, Stavropol krai, RSFSR, d 30 August 2022 in Moscow. Soviet Communist Party official, last General Secretary of the Communist Party of the Soviet Union (CPSU), and first, last, and only President of the Union of Soviet Socialist Republics. He was born into a Russian-Ukrainian peasant family. Gorbachev graduated from the faculty of law at Moscow University in 1955, and also completed by correspondence studies a diploma in agricultural economics at the Stavropol Agricultural Institute in 1967. As a mere teenager while working as a farmhand on a machine-tractor station in his home region, he earned the prestigious Red Banner of Labor for over-fulfilling the harvest quota. He was a silver medalist in his last year of school and this award entitled him to university entry without examination of which he took advantage in 1950. At university he joined the CPSU in 1952 and also served as a Komsomol organizer (1952–4). Returning to Stavropol, where he was assigned according to his specialty for a post in the Procuracy, he instead became a Komsomol propaganda official there, rising to first secretary of the Stavropol krai committee of the Komsomol. In 1961, he was a delegate to the historic XXII Congress of the CPSU at which Nikita Khrushchev denounced Joseph Stalin and his crimes. The following year he began work as a Communist Party official, eventually becoming first secretary of the Stavropol krai committee of the CPSU (1970–8) and simultaneously a member of the Central Committee (CC) of the CPSU in Moscow. At that time it was customary for top Party and government officials from Moscow to holiday in the Stavropol region, nestled in the Northern Caucasia. As local chief and their host, Gorbachev was able to develop beneficial links with patrons who saw leadership potential in his diligent Party work and successful agricultural management.
In 1978 Gorbachev was transferred to Moscow, where he served until 1983 as CC secretary responsible for agriculture, replacing his mentor, the late Fedor Kulakov. With the sponsorship of his long-time patrons there, Mikhail Suslov and Yurii Andropov, he was made a candidate member of the CC CPSU Politburo in 1979 and a full member of that top policy-making body a year later. During 1983–5, his responsibilities as secretary were broadened as he undertook the workload first of the aging and ailing Andropov (d 9 February 1984) and then of the likewise decrepit Konstantin Chernenko. On the latter's death on 10 March 1985, and on the nomination of none other than the venerable Andrei Gromyko, Gorbachev was elected General Secretary of the CPSU, at 54 the youngest person ever to accede to that post. Notably absent from the critical Politburo meeting at the time was the conservative First Secretary of Ukraine, Volodymyr Shcherbytsky, later removed from his post by Gorbachev.
From then until 1991, Gorbachev launched a series of uncoordinated and unplanned political reforms of the Soviet system under the rubric of perestroika (rebuilding or remodeling; known in Ukrainian as perebudova). By his dynamism and political maneuvering he was able to introduce into the USSR semi-competitive elections for the Congress of People's Deputies (CPD) in 1989, freedom of expression, association, and travel, and in 1990 free elections in the Union republics. In March 1990 he had himself elected President of the USSR by the CPD in a move to shore up his power, which was already beginning to dissipate as the principle of democracy introduced by him took effect in the Soviet political system naturally opening up opposition which took him by surprise. Despite their improvised, halfhearted and erratic nature, these liberalization measures acquired a momentum of their own, leading to the delegitimization of the CPSU and its monopoly of power, the disintegration of the USSR, and the launching of transitions to democracy in RSFSR, the Baltic states, and Ukraine—less so in Transcaucasia and Central Asia. In the sphere of foreign policy he was responsible for a series of stunning and globally important changes: withdrawal of the Soviet Army from Afghanistan; the fall of the Berlin Wall and the de-Communization of Eastern Europe; and the unification of Germany. He won the Nobel Peace Prize in 1990.
Gorbachev was, however, despite his liberal and reformist rhetoric, a lifetime opponent of national self-determination (specifically rejecting it as an option for Ukraine, which he regarded as part of Russia) as well as a stubborn adherent of the permanence of the 'socialist choice' made by the Bolshevik October Revolution of 1917. He therefore failed either to apprehend or to control the wave of nationalism launched by his democratizing reforms. On 17 March 1991, he held a referendum on the question of the preservation of a renewed USSR, the result of which he read as giving support to his intent to maintain the USSR's integrity. But six Union republics ignored the referendum altogether, while others, including Ukraine, added their own question on sovereignty. In Ukraine, 70 percent of voters agreed with Gorbachev's 'renewed federation'; 80 percent, with the idea of a sovereign Ukraine within a Union of Soviet Sovereign States (no longer 'Socialist').
Immediately thereafter, nevertheless, armed with the referendum results, he was impelled by the growing power of the presidents of the Union republics to renegotiate with them the terms of a new Union treaty (replacing that of 30 December 1922). The treaty, which had gone through several drafts and contained provisions for a greatly decentralized, but more truly federal, territorial organization, was due to be signed in Moscow on 19 August 1991. However, this action was aborted by a hastily organized coup against Gorbachev staged by his own subordinates and appointees specifically to prevent the treaty's signing and to forestall their feared dissolution of the Union. They therefore formed a State Committee for the Extraordinary Situation, declaring Gorbachev unfit due to the condition of his health. Gorbachev, then on holiday, was thus deposed and placed under house arrest in Foros, Crimea, but released when the coup itself collapsed after three days. By then, however, his authority had evaporated because of his association with the coup plotters and his failure to dissociate himself from the deeply compromised Communist Party (even though he did resign as CPSU General Secretary at the end of August). On 6 September 1991, he recognized the Baltic states' independence. After Ukraine had approved the 1991 Ukraine's Declaration of Independence in the 1 December 1991 referendum, and the foundations for a Commonwealth of Independent States (CIS) had been laid a week later near Minsk in Belarus by Boris Yeltsin, Leonid Kravchuk, and Stanislau Shushkevich, it became obvious that a union without Ukraine was impossible. On 25 December 1991, Gorbachev resigned as President of the USSR. In retirement, he headed a foundation dedicated to promoting democracy and the rule of law in the Russian Federation, generally played the role of elder statesman, was an advocate for global environmentalism and against nuclear war, participated in politics under the social-democratic banner, and authored a number of books. In 1996 he ran as a candidate in the Russian presidential election and gained 0.5 percent of the vote, indicative of his abysmal popularity at home as compared to the West. He is a supporter of the policies of Russian President Vladimir Putin, in particular of the latter's position on Crimea and Ukraine. In 2015, it became known that he suffers from severe diabetes which requires frequent emergency operations.
Like Gorbachev, his wife, Raisa Titarenko (b 1932 in Rubtsovsk, Siberia, d 20 September 1999 of leukemia in Münster, Germany), whom he married in 1953, was also of Ukrainian origin.
BIBLIOGRAPHY
Brown, A. The Gorbachev Factor (Oxford 1996)
White, S. Gorbachev and After. (Cambridge 1991)
Bohdan Harasymiw
[This article was updated in 2022.]