Literature in translation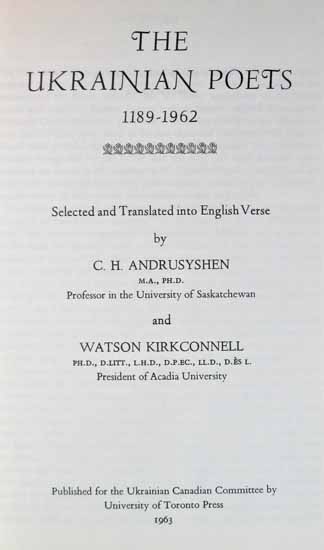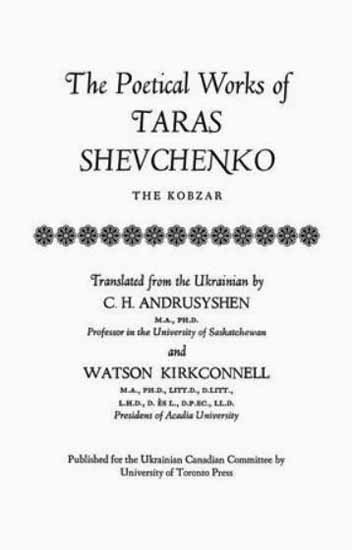 Literature in translation. Ukrainian belles lettres have been translated into many languages of the world. In addition to major Western European languages (English, French, Spanish, German, Italian), Slavic languages (Russian, Belarusian, Polish, Bulgarian, Czech, Slovak, Serbo-Croatian, Slovenian), and languages of the non-Slavic peoples of the former USSR, translations from Ukrainian literature are available in languages such as Albanian, Arabic, Bengali, Chinese, Danish, Dutch, Esperanto, Finnish, Flemish, Greek, Hebrew, Hungarian, Icelandic, Japanese, Kanarese, Korean, Mongolian, Norwegian, Punjabi, Portuguese, Romanian, Sinhalese, Swedish, Tamil, Telugu, Turkish, Vietnamese, and Yiddish. A special edition of Taras Shevchenko's poem 'Zapovit' (Kyiv 1989) is a polyglot anthology in 147 languages. A polyglot edition of Ivan Franko's 'Kameniari' (Kyiv 1983) includes 67 versions of the poem translated into 37 languages. The novelist Oles Honchar was the most widely translated Soviet Ukrainian writer. By 1985 his novel Praporonostsi (The Standard-bearers) had 40 Russian editions, 21 editions in languages of the peoples of the USSR, and 55 editions outside of the Soviet Union. In many languages, however, Ukrainian literature is represented only by a few samples. The widest coverage is probably in Russian: a Russian edition of Shevchenko's Kobzar appeared as early as 1860, during the poet's lifetime. There are hundreds of books translated from Ukrainian literature into Russian, both contemporary and classic, many in multivolume editions. Systematic translations into Western European languages were undertaken only in the 1980s, notably by the Dnipro Publishers of Kyiv (translations into English, French, and Spanish of contemporary and classic Ukrainian literature, anthologies of Ukrainian poetry and prose), by the Ukrainian Academic Press of the United States (translations into English mostly of classic authors, an anthology of Ukrainian prose), by Bayda Books of Australia (mostly contemporary authors, translated into English), and, as part of systematic efforts, by individual translators, such as Vira Selianska (Vira Vovk) (translations into Portuguese: anthologies of poetry and prose, works of classic authors) and Anna Halyna Horbach (translations into German: anthologies of 20th century Ukrainian prose, popular fiction, and works of dissident poets of Ukraine).
Translations into English. Ukrainian dumas attracted the attention of literary scholars in Great Britain and the United States as early as the middle of the 19th century. Scholarly discussions and/or translations of dumas appeared in Foreign Quarterly Review (1840–1), American Eclectic (1841), Talvi's Historical View of the Languages and Literatures of the Slavic Nations (1850), and Athenaeum (1873). The first note on Taras Shevchenko, a paraphrase of a few lines from his poem 'The Caucasus,' was, as far as can be determined, in the Alaska Herald of 1 March 1868. The earliest-known account of Shevchenko's life and work was J. Austin Stevens's English version of E. Durand's French article published in the Galaxy (New York, October 1876). Among the pioneer translators of Shevchenko's poetry were William Morfill, F.P. Marchant, and Ethel Lillian Voynich. The first book of Shevchenko's poetry (Six Lyrics from the Ruthenian of Taras Shevchenko in Voynich's translation) and the first separately published essay (T. Schevchenko, the National Poet of Oukraina by L.P. Rastorgoueff) were both published in London in 1911. The earliest-known books of Ukrainian prose are Marko Vovchok's Maroussia, a Maid of Ukraine (New York, 1880s and 1890), which was translated indirectly from the French version coauthored by Pierre-Jules Stahl, and R.N. Bain's collection Cossack Fairy Tales and Folk Tales (London 1894), which may well be the first book of translations directly from the Ukrainian language. A collection of Ukrainian folk songs and selected poems by Shevchenko, Stepan Rudansky, Hryhorii Vorobkevych, and Yurii Fedkovych in the English version of Florence Randal Livesay (New York 1916) was probably the first English anthology of Ukrainian poetry.
Translations from Ukrainian literature and writings about Ukrainian literature had a dramatic quantitative increase in the 1960s, 1970s, and, especially, 1980s. Although many Ukrainian writers remain unrepresented or underrepresented in English, enough Ukrainian belles lettres are available to make university-level courses based exclusively on primary sources in translation possible. The quality of translation is on the rise, and literary criticism occasionally reaches the level of profound analytical study.
Anthologies. There are several anthologies of Ukrainian poetry. The most important are The Ukrainian Poets, 1189–1962 (Toronto 1963; translated by Constantine Andrusyshen and Watson Kirkconnell), Anthology of Soviet Ukrainian Poetry (Kyiv 1982; comp Z. Honcharuk), Poetry of Soviet Ukraine's New World (1986), and Four Ukrainian Poets: Drach, Korotych, Kostenko, Symonenko (1969; ed George Stephen Nestor Luckyj, trans Marta Bohachevsky-Chomiak and Danylo Husar Struk). Ukrainian fiction is represented by the following anthologies: Their Land (1964; ed Michael Luchkovich), Stories of the Soviet Ukraine (1970), Modern Ukrainian Short Stories (1973; ed Luckyj), Valor: Stories by Soviet Ukrainian Writers about the Great Patriotic War of 1941–1945 (1975), Written in the Book of Life: Works by 19th- and 20th-Century Ukrainian Writers (1982; trans Mary Skrypnyk); Soviet Ukrainian Short Stories (1983 and bk 2, 1985), and Before the Storm: Soviet Ukrainian Fiction of the 1920s (1986; ed Luckyj, trans Yurii Tkach). Anthologies of Ukrainian folklore include Ukrainian Folk Tales (1964; trans Marie Bloch), Ukrainian Dumy (1979; trans Yuriy Tarnawsky and P. Kilina [see Patricia Warren]), Down Singing Centuries (1981; trans Florence Randal Livesay), Ukrainian Folk Tales (1985; trans I. Zheleznova), and How Ivan Went to See the Sun (1989; trans A. Bilenko). A general representative anthology of émigré writers is conspicuous by its absence. There are, however, anthologies by country—of Ukrainian writers of Canada, Yarmarok (1987; eds Jars Balan and Yurii Klynovy), which includes both poetry and prose; and of Australia, the collection of prose On the Fence (1985; ed D. Chub [see Dmytro Nytchenko], trans Tkach) and Australia's Ukrainian Poets (1973; trans R.H. Morrison). Literary history and literary criticism are represented by such important collections (where some of the material has been translated from Ukrainian) as Taras Ševčenko, 1814–1861 (1962; eds V. Mijakovskyj [see Volodymyr Miiakovsky] and George Yurii Shevelov), Shevchenko and the Critics, 1861–1980 (Toronto 1980; ed Luckyj), and Studies in Ukrainian Literature (New York 1986; ed Bohdan Rubchak).
Individual writers. Among translations of Ukrainian classics Taras Shevchenko is most fully represented. The Poetical Works of Taras Shevchenko (1964; trans Constantine Andrusyshen and Watson Kirkconnell) contains all the poems Shevchenko ever wrote in Ukrainian. Outstanding among other Shevchenko collections are Taras Shevchenko, the Poet of Ukraine: Selected Poems (1945; trans Clarence Augustus Manning), Shevchenko's Thoughts and Lyrics (1961), Song Out of Darkness (1961; trans Vera Rich), Selected Works: Poetry and Prose with Reproductions of Paintings by T. Shevchenko (1964 and 1979; ed John Weir), and Selected Poetry (1977 and 1989), and Selections, Poetry, Prose (1988; trans Weir). Among the critical and biographical studies of Shevchenko in addition to the aforementioned mention must be made of Taras Shevchenko: A Life by Pavlo Zaitsev (1988; trans and ed George Stephen Nestor Luckyj), and The Exile, a biographical novel by Zinaida Tulub (1988; trans A. Bilenko).
Books of Ivan Franko's poetry and prose include Ivan Franko, the Poet of Western Ukraine: Selected Poems (1948 and 1968; trans P. Cundy), Poems and Stories (1956; trans John Weir), Boa Constrictor and Other Stories (1957; trans F. Solasko), Stories (1972), Moses and Other Poems (1973; trans Vera Rich); Short Stories (1977), Fox Mykyta (1978; trans B. Melnyk), Ivan Vyshensky (1983; trans R.O. Tatchyn), When the Animals Could Talk (1984 and 1987; trans Mary Skrypnyk), Selections: Poems and Stories (1986; trans Weir), and Moses and Other Poems (1987; trans A. Hnidj), and Zakhar Berkut (1987; trans Skrypnyk). Lesia Ukrainka is represented by Spirit of Flame (1950; trans P. Cundy), Lesya Ukrainka: Life and Work (1968; ed Constantine Bida, trans Rich), In the Catacombs (1971; trans Weir), Hope: Selected Poetry (1975; trans G. Evans), and Forest Song (1985; trans G. Evans). Marko Vovchok, in addition to the pioneering translation of Maroussia, Maid of Ukraine, has two recent books in English, After Finishing School (1983; trans Oleksa Kovalenko) and Ukrainian Folk Stories (1983; trans N. Pedan-Popil). There exists a translation of Panteleimon Kulish's novel The Black Council (1973; trans George Stephen Nestor Luckyj and M. Luckyj). Hryhorii Kvitka-Osnovianenko's novel Marusia (trans Florence Randal Livesay) was published in New York in 1940. Translations of Mykhailo Kotsiubynsky appear as Chrysalis and Other Stories (1958; trans J. Guralsky), The Birthday Present and Other Stories (1973), Fata Morgana (1976; trans A. Bernhard), Fata Morgana and Other Stories (1980; var trans), and Shadows of Forgotten Ancestors (1981; trans Marco Carynnyk). The short stories of Vasyl Stefanyk are available in at least three collections: The Stone Cross (1971; trans J. Wiznuk and Constantine Andrusyshen), A Study of Vasyl Stefanyk: The Pain at the Heart of Existence (1973; trans and commentary by Danylo Husar Struk), and Maple Leaves and Other Stories (1988; trans Skrypnyk). Ivan Nechui-Levytsky's Mikola Dzerya: A Long Story was published in Kyiv in 1985 (trans Kovalenko).
Translations of prose works include Stepan Vasylchenko's Stories (1984; trans Oleksa Kovalenko); Arkhyp Teslenko's Stories (1981; var trans); Mykola Khvylovy's Stories from the Ukraine (1960; trans George Stephen Nestor Luckyj); Valeriian Pidmohylny's A Little Touch of Drama (1972; trans Luckyj and M. Luckyj); Andrii Holovko's The Weeds (1976; trans A. Bilenko) and the The Red Kerchief (1979; trans A. Bilenko); Borys Antonenko-Davydovych's Behind the Curtain (1980; trans Yurii Tkach) and Duel (1986; trans Tkach); Volodymyr Gzhytsky's Night and Day (1988; trans I. Press); Ostap Vyshnia's Hard Times (1981; trans Tkach); Oleksander Dovzhenko's The Enchanted Desna (1982; trans A. Bilenko); Yurii Yanovsky's The Horsemen (1989; trans S. Sinhayivsky); Mykhailo Stelmakh's Let the Blood of Man Not Flow (1962; trans E. Manning and O. Shartse); Oles Honchar's The Standard-bearers (1948; trans N. Jochel), Short Stories (1950s; trans V. Shneerson), The Cyclone (1972; trans A. Ingman), The Shore of Love (1980; trans D. Sinclair-Loutit), Man and Arms (1985; trans A. Bilenko), and The Cathedral (1989; trans Tkach and Leo Rudnytzky); Pavlo Zahrebelny's From the Point of View of Eternity (1978; trans C. English); Yevhen Hutsalo's A Prevision of Happiness and Other Stories (1974; trans E. Manning); Oles Berdnyk's Apostle of Immortality (1984; trans Tkach); Valerii Shevchuk's The Meek Shall Inherit (1989; trans V. Kholmogorova); Vasyl Shevchuk's Blood Brothers (1980; trans Tkach); Anatol Dimarov's Across the Bridge (1977; trans Tkach); Volodymyr Malyk's The Cossack Ambassador (1985; trans S. Sinhaivsky); Dmytro Mishchenko's The Siverianians (1986; trans O. Olexiv); Yurii Mushketyk's Cruel Mercy (1986; trans O. Panasyev); Vsevolod Nestaiko's Two Toreadors from Vasukovka Village (1983; trans F. Glagoleva) and In the Land of the Sunbeam Bunnies (1986; trans A. Bilenko); Mariia Pryhara's The Cossack Holota (1985; trans Mary Skrypnyk); V. Blyznets's In the Land of the Living Lights (1987; trans V. Ruzhitsky); Rostyslav Sambuk's The Jeweler from Capuchins Street (1982; trans A. Bilenko); Mykola Vinhranovsky's Summer Evening (1987; trans A. Bilenko); Hryhir Tiutiunnyk's Cool Mint (1986; trans A. Bilenko); Vasyl Zemliak's The Swan Flock (1982) and Green Mills (1984), both trans by A. Bilenko; Volodymyr Vladko's Descendants of the Scythians (1986; trans O. Panasyev); Borys Kharchuk's A Measure of Life and a Measure of Death (1989; trans O. Panasyev). Translations of émigré writers included Volodymyr Vynnychenko's Selected Short Stories (1991; trans by T.S. Prokopov); Illia Kiriak's Sons of the Soil (1959 and 1983; trans Michael Luchkovich); Ivan Bahriany's The Hunters and the Hunted (1954 and 1956); Teodosii Osmachka's Red Assassins (1959); Ihor Kachurovsky's Because Deserters Are Immortal (1979; trans Yu. Tkach); Vasyl Sokil's And Then There Was Glasnost (1990; trans K. Windle); Mykola Ponedilok's Funny Tears (1982; trans Tkach); I. Bodnarchuk's The Generations Will Get Together (1986; trans Tkach); and H. Meriam-Luzhnytsky's (see Hryhorii Luzhnytsky) Twelve Letters from F.A. Sheptytsky to His Mother (1983; trans R.O. Tatchyn).
Among the poetry of individual poets are Pavlo Tychyna's Selected Poetry (1987; var trans); Maksym Rylsky's Selected Poetry (1980; trans G. Evans); Bohdan Ihor Antonych's Square of Angels (1977; var trans); Ivan Drach's Orchard Lamps (1978; ed S. Kunitz; 2nd edn 1989); Vasyl Stus's Selected Poems (1987; trans Jaropolk Lassowsky); Ihor Kalynets's Crowning the Scarecrow (1990; trans Marco Carynnyk); Lina Kostenko's Selected Poetry: Wanderings of the Heart (1990; trans Michael Naydan); Vasyl Holoborodko's Icarus with Butterfly Wings (1991; trans M. Stefaniuk); Olena Teliha's Boundaries of Flame (1977; trans O. Prokopiv); Vasyl Symonenko's Granite Obelisks (1976; trans A.M. Chirovsky); and, of the émigré poets, Yar Slavutych's The Conquerors of the Prairies (1974 and 1984; var trans) and Oasis (1959; trans M. Manly); Yuriy Tarnawsky's This Is How I Get Well (1978; trans by author); Vira Vovk's Meanders (1979; trans M. Lukianowicz) and Mandala (1980; trans O. Gomes); and Bohdan Boychuk's Memories of Love (1989; trans M. Rudman and D. Ignatow).
Drama is represented in English by Oleksander Korniichuk (Wings, 1956; trans J. Gibbons), Mykola Kulish (Sonata Pathétique, 1975; trans George Stephen Nestor Luckyj and M. Luckyj), and Ivan Kocherha (Yaroslav the Wise, 1982; trans W. May).
Notable among memoirs, diaries, and biographical works are Oleksander Dovzhenko's The Poet as a Filmmaker (Cambridge, Mass 1973; trans and commentary by Marco Carynnyk), Mykhailo Osadchy's Cataract (1976; trans Carynnyk), Volodymyr Drozd's The Road to Mother (1987; trans V. Castelli and S. Vladkov), and O. Asher's Letters from the Gulag: The Life, Letters, and Poetry of Michael Dray-Khmara (1983).
Outstanding among books of literary history and literary criticism are Dmytro Chyzhevsky's A History of Ukrainian Literature (1975), Yevhen Sverstiuk's Clandestine Essays (1976; ed and trans George Stephen Nestor Luckyj), Mykola Khvylovy's The Cultural Renaissance in Ukraine (1986; ed and trans Myroslav Shkandrij), and Yevhen Shabliovsky's Ukrainian Literature through the Ages (1970).
Translations of Ukrainian belles lettres in the periodical press have appeared most frequently in the pages of such journals as Ukraine, The Ukrainian Canadian, Soviet Literature, The Ukrainian Review (London), Journal of Ukrainian Studies (Edmonton), Forum (Scranton), and Smoloskyp (Ellicott City, Maryland). Articles of literary criticism are published in many English-language journals devoted to Slavic studies, most notably in Harvard Ukrainian Studies, Slavonic and East European Review, Slavic and East European Journal, Canadian Slavonic Papers, Annals of the Ukrainian Academy of Arts and Sciences in the United States, and Journal of Ukrainian Studies.
BIBLIOGRAPHY
'Rosiis'ka literatura i T.H. Shevchenko,' Shevchenkivs'kyi slovnyk, vol 2 (Kyiv 1977)
Franko, Ivan. Kameniari movamy narodiv svitu (Kyiv 1983)
Koval', Vitalii. 'Praporonostsi v pokhodi,' Vsesvit, 1985, no. 5
Denysova, Tamara; et al (eds). Ukraïns'ka literatura v zahal'no-slov'ians'komu i svitovomu literaturnomu konteksti. Vol 3, U vzaiemynakh z literaturamy Zakhodu i Skhodu (Kyiv 1988)
Tarnawsky, Marta. Ukrainian Literature in English: Books and Pamphlets, 1890–1965 (Edmonton 1988)
Piaseckyj, Oksana. Bibliography of Ukrainian Literature in English and French: Translations and Critical Works, 1950–1986 (Ottawa 1989)
Shevchenko, Taras. Zapovit movamy narodiv svitu (Kyiv 1989)
Tarnawsky, Marta. Ukrainian Literature in English: Articles in Journals and Collections, 1840–1965 (Edmonton, 1992)
Prolog, nie epilog... Poezja ukraińska w polskich przekładach (pierwsza połowa XX wieku) (Warsaw 2002)
Marta Tarnawsky
[This article originally appeared in the Encyclopedia of Ukraine, vol. 3 (1993).]