Printmaking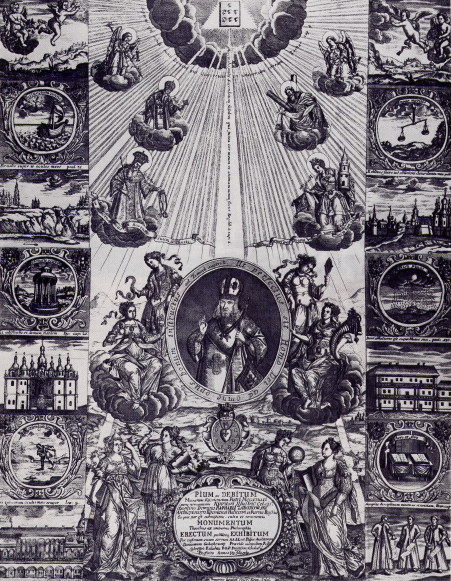 Printmaking (естамп, станкова ґравіюра; estamp, stankova graviura). The process and art of imprinting or stamping an engraved image onto paper, cloth, or leather. Unlike engravings or lithographs, prints are not necessarily made to be printed in books but are works of art that exist independently of textual material. In practice early Ukrainian artists did not make this distinction. They often glued prints into books, and some reprinted illustrations on loose sheets and hung them as prints. Modern prints are individually signed by the artist in pencil and are printed in small quantities (usually 25 to 100 copies). According to established tradition some engravers often carve their name or initial in the bottom right-hand corner of the engraving block.
Early Ukrainian wood engravings (see Woodcut) of the 16th century are not prints in the strict sense of the word, because they were all printed in books. They could, however, function as prints (eg, the picture of the Evangelist Luke in the Apostolos printed in Lviv in 1574). The first prints executed on individual sheets of paper were the early-17th-century portrayals of the four Evangelists printed by Pamva Berynda at the Striatyn Press. During the 17th and 18th centuries prints of folk icons and folk drawings became popular throughout Ukrainian society because they were much less expensive than paintings or painted icons.
Professional printmaking of the 17th and 18th centuries holds a special place in Ukrainian art. At that time it was developed more fully than painting, sculpture, or graphic art. Not only religious but also secular printmaking of portraits, landscapes, and still lives developed fully. Synthetic genres particular to the art of printmaking were created—the address of welcome, the thesis frontispiece, the calendar of saints, the genealogical tree, and the heraldic crest. Ukrainian printmaking generated variations of European styles (see Renaissance, Baroque, Rococo, Classicism, and Romanticism). The print styles spread to other art forms. Thus printmaking was the innovator among the art forms. The greatest printmakers of the Cossack period were Master Illia, Master Prokopii, Dionisii Sinkevych, Nykodym Zubrytsky, Oleksander Tarasevych and Leontii Tarasevych, Ivan Shchyrsky, Averkii Kozachkivsky, Ivan Myhura, Hryhorii K. Levytsky, Danylo Haliakhovsky, and Ya. Konchakivsky.
During the 19th century printmaking underwent great changes. The technique of engraving was perfected, and lithography was introduced. Prints acquired characteristics of painting, because painters desired to popularize their works by 'translating' them into graphic art. The secularization of art had a negative effect on printmaking: it reduced its subject matter and diluted the force of its spiritual expressiveness and the unique national character achieved during the preceding centuries. Only Taras Shevchenko can be included among those artists who raised the level of printmaking, in both subject matter and technique. Many foreign masters of printmaking worked in Ukraine during the 19th century.
Ukrainian printmaking was reborn in the 20th century in the works of original graphic artists, such as Olena Kulchytska, Volodymyr Zauze, Heorhii Narbut, Mykhailo Zhuk, Leopold Levytsky, Vasyl Kasiian, and Mykhailo Derehus. Emigré graphic artists also made their contributions. The most famous is Jacques Hnizdovsky, who made his best prints in postwar New York. Postwar printmakers in Soviet Ukraine worked mostly in the linocut (eg, Heorhii Yakutovych, Volodymyr Kutkin, I. Batechko, and H. Malakov) and in plastic (Mykola Stratilat and V. Lopata). The art of miniature printmaking in the bookplate became popular, and there was continued interest in the traditional techniques of engraving, such as woodcut, copper engraving, watermarking, and lithography (O. Danchenko, Oleksii Fishchenko, and Valentyn Lytvynenko).
BIBLIOGRAPHY
Turchenko, Iurii. Ukraïns'kyi estamp (Kyiv 1964)
Stepovyk, Dmytro. Ukraïns'ka hrafika XVI–XVII stolit': Evoliutsiia obraznoï systemy (Kyiv 1982)
Dmytro Stepovyk
[This article originally appeared in the Encyclopedia of Ukraine, vol. 4 (1993).]