Krychevsky, Vasyl H.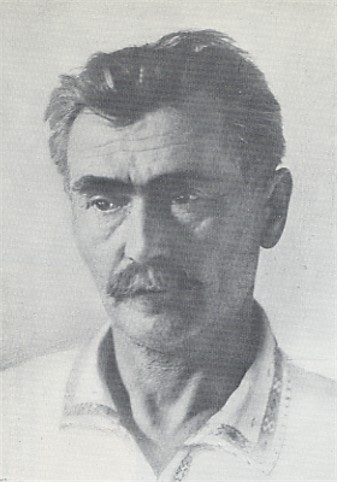 Krychevsky, Vasyl H. [Кричевський, Василь Григорович; Kryčevs'kyj, Vasyl' Hryhorovych], b 12 January 1873 in Vorozhba, Lebedyn county, Kharkiv gubernia, d 15 November 1952 in Caracas, Venezuela. Outstanding art scholar, architect, painter, graphic artist, set designer, and a master of applied and decorative art; brother of Fedir Krychevsky. He received little formal education. Interested deeply in Ukrainian folklore and art history, he audited Mykola Sumtsov's, Dmytro Bahalii's, and Egor Redin's classes at Kharkiv University. Working as an independent architect and artist, he achieved a national reputation by the time of the outbreak of the First World War. During the revolutionary period he was a founder and the first president of the Ukrainian State Academy of Arts. In the 1920s he taught at the Kyiv Institute of Plastic Arts and the Kyiv Architecture Institute. In 1927 he taught for a year at the Odesa Art School, and then served in the architectural department of the Kyiv State Art Institute until 1941. Moving to Lviv in 1943, he was appointed rector of a new Ukrainian art school, the Higher Art Studio. After the war he lived briefly in Paris before immigrating in 1947 to South America.
Krychevsky first achieved public recognition in 1903 by winning the architectural competition to build the Poltava Zemstvo Building (now the Poltava Regional Studies Museum). His design of the building inaugurated a new style based on the traditions of Ukrainian folk architecture, and set a new trend among young architects in Ukraine. He continued to work in this style, using it for a number of public and private buildings and monuments such as the People's Home in Lokhvytsia (1904); the residences of D. Myloradovych (1905), I. Shchitkivsky (1907), and Mykhailo Hrushevsky (1908–9); the Shevchenko Memorial Museum in Kaniv (1931–4) (see Kaniv Museum-Preserve); and monuments to M. Myloradovych (1908), Mykhailo Kotsiubynsky (1928), Danylo Zabolotny (1932), and Hrushevsky (1935). This distinctive Ukrainian style marked his interior designs for private homes and exhibition halls. He also designed several buildings in the style of constructivism, including the Rolit building (1934) in Kyiv.
As a painter Krychevsky was deeply influenced by French impressionism. The pure and harmonious colors of his south-Ukrainian landscapes (such as A Crimean Landscape [1921], A Tatar House in Alushta [1923], and Alushta [1923]) or Kyiv cityscapes (such as View of Kyiv from the Holosiv District [1928], Podil [1934], and The Irynynska Street in Kyiv [1942]) (done in oils and watercolors) convey a lyrical atmosphere. His paintings were first exhibited in Kharkiv in 1897. He participated in the annual exhibitions of the Society of Russian Watercolorists in Saint Petersburg (1899–1902) and, later, in the exhibitions of the Kyiv painters (1910–13). Altogether he did about 300 paintings. Krychevsky is one of the main founders of modern Ukrainian book design. In his work he used traditional folk ornamentation and motifs in old Ukrainian books, and revived the old techniques of wood engraving, etching, and lithography. He designed over 80 bookcovers, some bookplates, and a number of entire books, including the deluxe edition of Ukraïns'ka pisnia (Ukrainian Song, 1935). At Mykhailo Hrushevsky's request he designed the state emblems and seals of the Ukrainian National Republic and a number of bank notes. From 1907 through to 1910, Krychevsky designed sets and costumes for some 15 plays and operas produced by the Sadovsky's Theater in Kyiv, including Mykhailo Starytsky's Bohdan Khmel'nyts'kyi, Ivan Karpenko-Kary's Sava Chalyi, B. Smetana's The Bartered Bride, and S. Moniuszko's Halka. Then in 1917–18 he worked with the Ukrainian National Theater. Noted for their realism and attention to detail, his sets occasionally assumed an abstract or grotesque character to match the atmosphere of the drama. In the Soviet period he served as a consultant or artistic director for 12 films shot in Ukraine, including Taras Shevchenko (1926), Taras Triasylo (1927), Zvenyhora (1928), and Sorochyns'kyi iarmarok (The Sorochyntsi Fair, 1939), the first Ukrainian color film.
Krychevsky was an enthusiastic collector and student of Ukrainian folk art. Agreeing fully with J. Ruskin's and W. Morris's views on the relation of art to everyday life, he played an important role in promoting handicrafts among the people. He served as instructor in Varvara and Bohdan Khanenko's kilim weaving and cloth-printing workshop in Olenivka (1912–15) and as director of a ceramics school in Myrhorod (1918–19). He created his own designs for kilims, printed fabrics, embroideries, ceramic products, and furniture. Over 1,100 samples of his work were displayed at a retrospective exhibition in Kyiv in 1940. Krychevsky's memorial museum was opened in Opishnia, Poltava oblast, in 2013.
Krychevsky's articles on art and reviews appeared in the leading journals in Ukraine. His more important contributions to art criticism and history are 'Pro rozuminnia ukraïns'koho styliu' (On Understanding the Ukrainian Style, Siaivo, no. 3 [1914]), 'Budynok, de zhyv T.H. Shevchenko u Kyïvi' (The Building Where T. Shevchenko Lived in Kyiv, Ukraïna (1914–30), 1925, nos 1–2), and 'Arkhitektura doby' (The Architecture of the Age, Chervonyi shliakh, 1928, no. 3).
BIBLIOGRAPHY
Pavlovs'kyi, V. Vasyl' Hryhorovych Krychevs'kyi. Zhyttia i tvorchist' (New York 1974)
Ruban-Kravchenko, Valentyna. Krychevs'ki i ukraïns'ka khudozhnia kul'tura XX stolittia: Vasyl' Krychevs'kyi (Kyiv 2004)
Sviatoslav Hordynsky, Vadym Pavlovsky
[This article was updated in 2013.]