Luhansk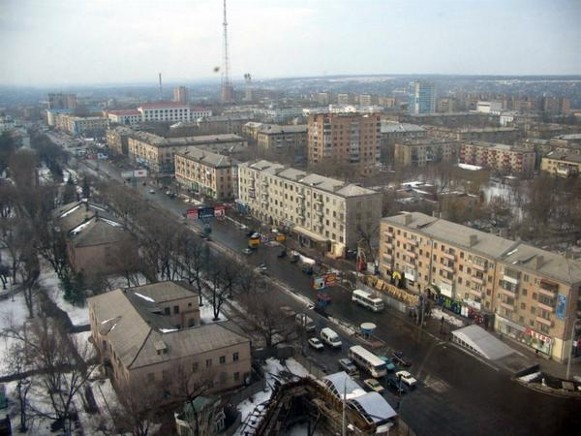 Luhansk [Луганськ; Luhans'k]. Map: V-20, DB Map: DBII-6. A city (2014 pop 424,113) at the confluence of the Luhanka River and the Vilkhivka River and the capital of Luhansk oblast. It is one of the major industrial centers of the country. In 1935–58 and from 1970 until May 1990 it was called Voroshylovhrad.
Luhansk was founded in 1795, when the imperial government decided to build a cannon foundry and ammunition factory for the Black Sea navy there. During the Napoleonic Wars the plant was greatly expanded, and the workers' population increased. The state enterprise stimulated the development of mining in the Donets Basin. After the Crimean War the foundry could not compete with more efficient plants, and in 1887 it was shut down. By then Luhansk was a large industrial center linked by rail to the Dnieper Industrial Region and the ports of the Sea of Azov. In 1882 the county administration was moved from Slovianoserbsk to Luhansk, and the town was granted city status. In 1895 the government reopened a munitions factory in Luhansk, and in 1896 a Belgian firm established the largest steam engine plant in the Russian Empire there. By 1905 the plant was building 21 percent of the steam engines produced in the empire. The city's population grew from 20,400 in 1897 to 34,000 in 1904 and 68,000 in 1914. Much of its population (68.2 percent in 1897) was composed of Russians.
Under the Soviet regime the city grew rapidly in the interwar period. In 1938 it became the administrative center of a new Luhansk oblast. Today it is an important railway and highway junction and a major industrial center. Its most important industries are machine building and the metalworking industry; it has the Luhansk Diesel-Locomotive Building Consortium, the Luhansk Coal Machine-Building Plant, a motor-vehicle assembly plant, a crankshaft factory, a combustion-engine parts factory, and a tube-rolling mill. The light industry manufactures goods such as fine fabrics, footwear, knitwear, and clothing. The plants of the food industry include meat packers, dairies, and confectionery factories. The building-materials industry produces bricks, tiles, and reinforced concrete. The energy to run the industries is supplied by the Luhansk Power Station in Shchastia.
The city's educational system includes 11 institutions of higher learning, including Luhansk University, the Eastern Ukrainian National University, the Luhansk National Agricultural University, and the Luhansk Medical University. The first Ukrainian gymnasium in Luhansk was opened only in 1991. The cultural facilities of the city include three theaters (Ukrainian music and drama, Russian drama, and puppet), a circus, the Luhansk Regional Studies Museum, and the Luhansk Art Museum.
Volodymyr Kubijovyč
[This article was updated in 2014.]