Zapysky Naukovoho tovarystva im. Shevchenka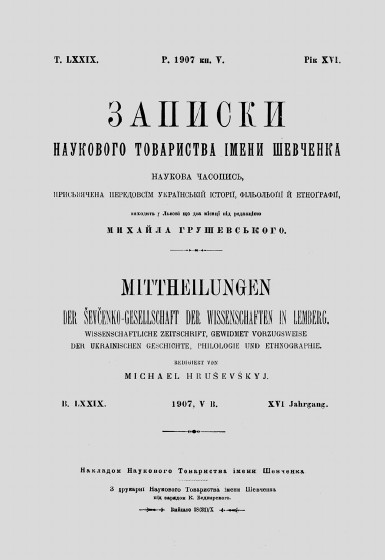 Zapysky Naukovoho tovarystva im. Shevchenka [«Записки Наукового товариства ім. Шевченка»; Annals of the Shevchenko Scientific Society (NTSh)]. A scholarly journal of the Shevchenko Scientific Society, published from 1892 until the Second World War in Lviv. The first four issues, under the de facto editorship of Oleksander Konysky, appeared irregularly until 1894. Under the editorship of Mykhailo Hrushevsky (1895–1913; also one of the most prolific contributors), Zapysky NTSh became a prominent quarterly, then bimonthly, publication, dealing with all areas of Ukrainian studies and publishing some works in other disciplines. Most of its articles dealt with history, philology, and ethnography, and its notable sections were the bibliographies, book reviews, and chronicles of scholarly affairs. A catalog of its first 20 volumes was published in Lviv in 1898. An index to the volumes for the period of 1892–1982 was prepared by Maksym Boiko in 1984.
Contributors to the Zapysky included the Western Ukrainian scholars and publicists Bohdan Barvinsky, Mykhailo Vozniak, Vasyl Herasymchuk, Volodymyr Hnatiuk, Ivan Dzhydzhora, Mykhailo Zubrytsky, Oleksander Kolessa, Myron Korduba, Oleksander Konysky, Filaret Kolessa, Ivan Krevetsky, Zenon Kuzelia, Ivan Krypiakevych, Stepan Rudnytsky, Ilarion Svientsitsky, I. Sozansky, Kyrylo Studynsky, Stepan Tomashivsky, Ivan Franko, and Vasyl Shchurat, and the central Ukrainian scholars Volodymyr Peretts, Oleksander Hrushevsky, Vadym Modzalevsky, Oleksander Lototsky, Serhii Maslov, and Viacheslav Lypynsky.
After the First World War the publication was transformed into an irregular series of scholarly collections and monographs. In 1924 Zapysky NTSh was split into two separate subseries: works of the historical-philosophical section (edited by Ivan Krypiakevych) and works of the philological section (edited by Kyrylo Studynsky, Yaroslav Hordynsky, and Vasyl Simovych). In the interwar period, in addition to the older scholars who began publishing works before the war, contributors included Mykola Andrusiak, Amvrosii Androkhovych, Elie Borschak, Ivan Bryk, Yaroslav Hordynsky, Ivan Zilynsky, Ivan Ohiienko, Yaroslav Pasternak, Mykhailo Tershakovets, and Mykola Chubaty. Until the onset of Stalinism a few Soviet Ukrainian scholars were also permitted to publish their works (eg, Kateryna Hrushevska and Fedir Savchenko).
In total 155 volumes of the Zapysky appeared in Lviv before 1939. After the Second World War the publication was renewed at first in Germany and then in other countries where the Shevchenko Scientific Society was established (the United States, Canada, Australia). Over 60 volumes appeared, covering a wide range of topics.
In 1990 тhe renewed Shevchenko Scientific Society in Lviv took over the publication of Zapysky NTSh (from volume 221, editors O. Kupchynsky and M. Ilnytsky). 257 volumes of Zapysky were published by 2009.
[This article was updated in 2014.]