Donetsk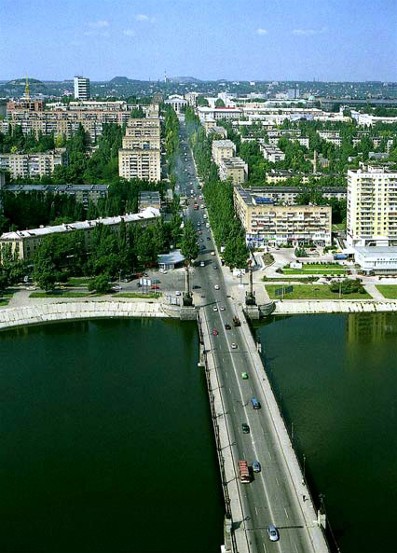 Donetsk [Донецьк; Donec'k]. Map: VI-18, DB Map: DBIV-3. City (2014 pop 949,825) in Donetsk oblast, called Yuzivka until 1924, then Staline or Stalino until 1961. Donetsk is an oblast capital in the Donets Basin and the largest center of metallurgy and coal mining in Ukraine. It is located in the steppe region on the Kalmiius River. It is the fifth-largest city in Ukraine. Donetsk is a junction of railway and bus lines and has an airport. Together with Makiivka, Yasynuvata, Khartsyzk, and Avdiivka, Donetsk forms an urban cluster that, with a population of approximately two million, is the second-largest metropolis in Ukraine after Kyiv.
History. Donetsk was established in 1869 as a settlement for the workers of the New Russia Company of Anthracite, Iron, and Rail Production (known today as the Donetsk Metallurgical Plant), owned by the Welsh industrialist John Hughes and named Yuzivka (in Russian, Yuzovka) after him. Rapid industrial growth was promoted by the availability of large anthracite-coal deposits (especially coking coal) and water and by the construction of the Kostiantynivka (1872) and then the Donbas–Kryvyi Rih (1883) railway lines. In 1876 its metallurgical plant was the largest in the Russian Empire. In 1889 a French- and German-owned machine-building plant was constructed, which is now known as the Donetsk Machine-Building Plant. It produced equipment for mines (nine by 1899) owned by English, French, Russian, and Ukrainian industrialists.
As industry developed, the population increased greatly. The overwhelming majority of the newcomers were migrant Russian workers, as the Ukrainians in the surrounding areas were unwilling to abandon their agricultural pursuits in favor of an urban, industrial lifestyle. Yuzivka had a population of 5,500 in 1884; 32,000 in 1897; and 70,000 in 1913, of which 43,000 were workers and their families. Most of the workers lived in poor one-story dwellings scattered chaotically along the banks of the Kalmiius River. Merciless exploitation and difficult living conditions led to massive strikes by the workers in 1875, 1887, 1892, 1898, 1905, and 1913 (3,500 miners). Since most of Yuzivka's population was Russian, the Ukrainian national movement had no apparent influence there. In the 1900s, besides the Russian revolutionary press, some Ukrainian publications reached Yuzivka. Workers' groups of the Prosvita society were active. In 1917–18 the Mensheviks were the dominant political party in Yuzivka.
In April 1918 Yuzivka was occupied by German-Austrian forces, and in November by the army of General Anton Denikin. Then it changed hands several times before it was taken by the Red Army in January 1920. During the First World War, the Revolution of 1917, and the Ukrainian-Soviet War, 1917–21, the city declined, and its population greatly decreased (32,000 in 1923). Gradually it was rebuilt. In 1925 Donetsk (then known as Staline or Stalino) became an okruha center and in 1932 an oblast center. During the period of Joseph Stalin's five-year plans the city experienced its highest rate of development. At the end of the 1930s there were 223 large enterprises in Staline. It produced 7 percent of Ukraine's coal, 5 percent of its steel, and 11 percent of its coke. New plants were set up: a motor-vehicle repair plant, a mechanical plant (Donenerho), and a nonferrous-metalworking plant. Ten new mine shafts were opened, among then NN29, 17–17-bis, and the Red Star. Staline became a cultural center with 2 theaters, 4 institutions of higher education, 113 schools of general education, and 9 tekhnikums. The writers' association Zaboi was active here, and a publishing house was established. In 1941 an opera and ballet theater was opened (see Donetsk Opera and Ballet Theater). As industry developed, the population increased. In 1926 Staline had 105,900 inhabitants (26.1 percent Ukrainians, 56.2 percent Russians, 10.7 percent Jews). Its population was 287,000 in 1933 and 472,400 in 1939.
During the Second World War Staline was under German occupation from 1941 to 1943. The destruction sustained by the city is estimated at four billion rubles. The population fell to 175,000.
Industrial reconstruction lasted until 1950. Along with the reconstruction and renovation of existing enterprises and mines, there was considerable growth in the machine building, chemical industry, light industry, and food industry. By 1959 Staline's population had reached 708,000 (31 percent Ukrainiana, 51 percent Russiana, 3 percent Jews). The city's rate of population increase then slowed down because of a change in economic policy aimed at reducing the use of coal as fuel. In 1971 Donetsk's population was 891,000, in 1979 it was 1,021,000, and in 1989 it reached 1,132,400. It declined 8.8 percent by 2001, largely as a result of the economic difficulties experienced by the city's aging smoke-stack industries.
Economy. Donetsk is one of the largest metallurgical, coal-mining, machine-building, and chemical-industry centers in Ukraine. It has about 200 industrial enterprises. Some of its key metallurgical plants are the Donetsk Metallurgical Plant and a rolled-steel plant (established in 1956).
Among the coal mines, the Eastern, Ihnativska, New Central, Socialist Donbas, and E. Abakumov shafts should be mentioned. The machine-building industry consists of the following plants: Donetsk Machine-Building Plant (1889), a food-industry equipment plant, a metal-constructions plant, the Donenerho plant, a stamp and press-form plant, an auto-repair plant, a refrigerator plant, and a non-ferrous-metalworking plant. Chemical plants include the Donetsk and Rutchenkove coke-chemical plants, and the company Khimik. The building industry is well developed and includes such trusts as the Donbasenerhobud, Donetskshakhtobud, Donetskshakhtprokhodka, and Donbaskanalbud. Light industry produces knitted materials, clothing, and shoes. The food-industry plants produce beer, liqueurs, liquor, dairy products, meat, and fish. The city's enterprises export their products widely.
Donetsk is a large railway junction of 11 stations at the center of the densest railway network in Ukraine.
Culture. Donetsk is one of the largest centers of learning and culture in Ukraine, containing about 30 research and development institutions. The following institutes are located there: the Institute of Applied Mathematics and Mechanics of the National Academy of Sciences of Ukraine, the Institute of the Economics of Industry of the National Academy of Sciences of Ukraine, the Physical-Technical Institute, the Institute of Physical-Organic Chemistry and Coal Chemistry of the National Academy of Sciences of Ukraine, and a statistics center. The institute of Ferrous Metallurgy, of Mining Mechanics, of Technical Cybernetics, of Mining Lifesaving, and of Work Physiology are some of the other scientific research institutes. There are nineteen institutions of higher learning, including five universities: Donetsk University (est 1965), the Donetsk National Technical University, the Donetsk Medical University (four faculties, est 1930), the Donetsk National University of Economics and Trade (est in Kyiv in 1920 and moved to Donetsk from Kharkiv in 1959), the Donetsk State Management University. Three theaters (the Donetsk Opera and Ballet Theater; the Donetsk Ukrainian Music and Drama Theater; and a puppet theater, established in Kharkiv in 1925 and transferred here in 1933), a philharmonic orchestra, and a circus provide artistic entertainment. There are 2 state museums—an oblast regional studies museum (1924) and a city art and historical museum—as well as 15 other museums and an oblast archives (1924). The Donbas publishing house is located here. Several oblast newspapers, including Vechernii Donetsk, Vesti Donbassa, and Donets'kyi kriazh, are published here. There are five local television station and a radio station. There is a branch of the Writers' Union of Ukraine, which has published the bilingual journal Donbas/Donbass since 1968 (until 1957 it published the Russian bimonthly Literaturnyi Donbass and from 1958 to 1968 the Ukrainian almanac Donbas). Branches of the Union of Journalists of Ukraine and of the Union of Artists of Ukraine, a branch of the Ukrainian Theatrical Society, and a branch of the National All-Ukrainian Musical Association are also active in Donetsk.
City plan. Donetsk now stretches for 55 km from east to west and 28 km from north to south. Its area covers almost 400 sq km and is divided into eight administrative (city raion) sections. The main street, Artem Street, runs for 8 km, from a metallurgical plant to a railway station. The main administrative and cultural buildings—the Building of Soviets, the Drama Theater, the Ministry of Mining of Ukraine, the Oblast Philharmonic Hall—are located on this street in the city center. New streets have been constructed nearby—Shevchenko Boulevard, Pushkin Prospect, Maiakovsky Prospect, and University Street. In the northern and eastern sections new multistory apartment complexes have sprung up. Donetsk is one of the greenest cities in Ukraine: in 1976 up to 12,000 ha of the city's land were parkland and gardens, and the green suburban belt had almost 72,000 ha. The outstanding parks of Donetsk are Shcherbakov Park, which is the oldest, Komsomol Park, Seredni Prudy park, Miskyi Lis park, Verkhnii Lis park, and the Donetsk Botanical Garden of the National Academy of Sciences of Ukraine (see Botanical garden).
The basic means of transportation in Donetsk are the trolley (1927), trolleybus (1939), and bus. The suburbs are linked by trains.
BIBLIOGRAPHY
Svitlychnyi, K.; Myronov, M. Donets'k (Kyiv 1966)
Shul'gin, N. 'Donetsk za 50 let,' Stroitel'stvo i arkhitektura (1967)
Donetsk: Istoriko-ekonomicheskii ocherk (Donetsk 1969)
Kobets', H.; Maksymov, O.; Chystiakov, V. 'Donets'ku 100 rokiv,' UIZh, 1969, no. 9
Istoriia mist i sil Ukraïns'koï RSR: Donets'ka oblast' (Kyiv 1970)
Severin, S. 'Landshaftnaia arkhitektura Donetska,' Stroitel'stvo i arkhitektura (1979)
Volodymyr Kubijovyč
[This article was updated in 2014.]