Mariupol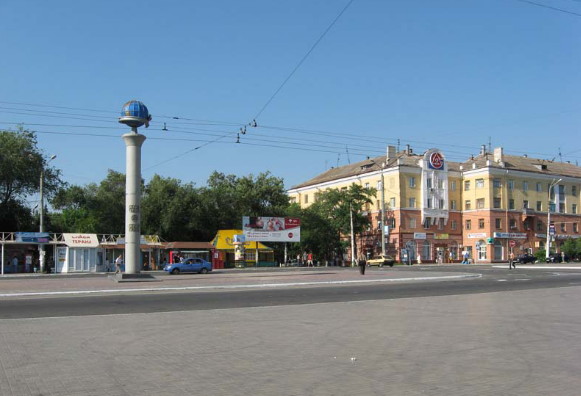 Mariupol or Mariiupil [Маріуполь; Mariupol' or Маріюпіль; Marijupil']. Map: VI-18. A port city (2013 pop 461,810) on the Sea of Azov at the mouth of the Kalmiius River in Donetsk oblast. A major industrial center, it is the tenth-largest city in Ukraine. From 1948 to 1989 it was called Zhdanov. Its origins date back to the beginning of the 16th century, when the Cossack fortress of Kalmiius was built. By 1611 Kalmiius was the center of a palanka. When Russia annexed the territory in 1775, the fortress was renamed Pavlovsk, and the palanka was reorganized into a county. In 1780 many Greeks from the Crimea were resettled there, and the town was renamed Mariupol (Mariiupil, Marianopol). In the late 19th century Mariupol was developed as a shipping port for the Donets Basin, in 1882 it was linked with Donetsk by rail, and in 1886–9 the port was built. The main exports were coal and grain. By 1900 the port was handling 1 million t of freight, and the tonnage doubled in the next decade. At the turn of the century a tube-rolling and a metallurgical plant were built, and from that time the town's heavy industry grew rapidly.
From 1892 to 1897 the population of Mariupol almost doubled, from 17,000 to 32,000. About half of it consisted of Ukrainians and Russians, 28 percent, Greeks, and 21 percent Jews. By the beginning of the First World War it had jumped to 110,000, and by 1921 it had fallen to 30,000. In the late 1920s the port was expanded to handle the Donets Basin's increased output, and the Mariupol Azovstal Metallurgical Plant, one of the largest in the Union of Soviet Socialist Republics, was built. The Mariupol region became, after the Donbas and the Dnipro Industrial Region, the third-largest center of heavy industry in Ukraine. By 1939 its population had reached 227,000. The city was heavily damaged during the Second World war, and its population fell to 85,000 in 1943.
Today Mariupol has many metallurgical plants (including the Mariupol Metallurgical Plant), heavy-machine-building plants (including the Mariupol Heavy-Machine-Building Plant), a coke refinery, and a large food industry. Its port is second only to Odesa's in Ukraine. The use of icebreakers enables it to remain open year-round. Known as 'the ocean gateway of the Donbas,' Mariupol is used by Ukraine to export coal, metals, grain, salt, and machines and to import iron ore, manganese ore, and cement. Its importance as a shipping outlet increased with the completion of the Volga–Don Canal, which linked the Sea of Azov with Moscow and the Caspian Sea. After the Second World War the seacoast near Mariupol was developed into a health resort area specializing in climatological and mud therapy. Today Mariupol is one of the most polluted cities in Ukraine. Its heavy industry is largely responsible for polluting the Sea of Azov.
[This article originally appeared in the Encyclopedia of Ukraine, vol. 3 (1993).]